Maharastra, Haryana Assembly elections on October 21
Bijepur by-election in Odisha will also held on the same day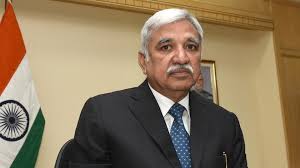 NewDelhi : The Election Commission of India on Saturday announced the dates for election to the Haryana and Maharashtra Assemblies and byelection for 63 assembly seats and one Loksabha seat.
Both states will have elections on October 21. The counting of votes will be held on October 24. While the term of the 288-member Maharashtra Assembly ends on November 9 that of the 90-member Haryana Assembly expires on November 2. Haryana has 1.82 crore registered voters while Maharashtra 8.94 crore voters.
While Maharashtra Assembly has strength of 288 seats out of 29 are reserved for SC and 25 for ST, Haryana has strength of 90 seats out of which 17 are reserved for SC and none for ST, Chief Election Commissioner Sunil Arora said in a press conference.
On the other hand, the bypolls in 63 assembly seats in 17 states and Puducherry, a union territory, and one Lok Sabha seat in Bihar will be held. These Assembly seats include Odisha's Bijepur, which had fallen vacant after Chief Minister Naveen Patnaik vacated it and retained the Hinjili seat in his home district Ganjam.