Bhubaneswar: Odisha on Wednesday reported the biggest single-day spike in COVID-19 cases so far as 101 new cases added to the list.
According to the information shared by the Odisha Information and Public Relations Department, as many as 101 people tested positive with Coronavirus taking the total cases to 538.
Of the 101 cases detected today, 90 persons are already in quarantine centres while 8 persons are in containment zones and 3 are local primary contacts.
Out of the 101 cases, 52 are from Ganjam district, 33 are from Balasore, 7 each from Sundergarh and Jajpur, 2 from Keonjhar district.
Out of the 538 cases in the state, 419 are active cases while 116 people have cured and 3 people have died.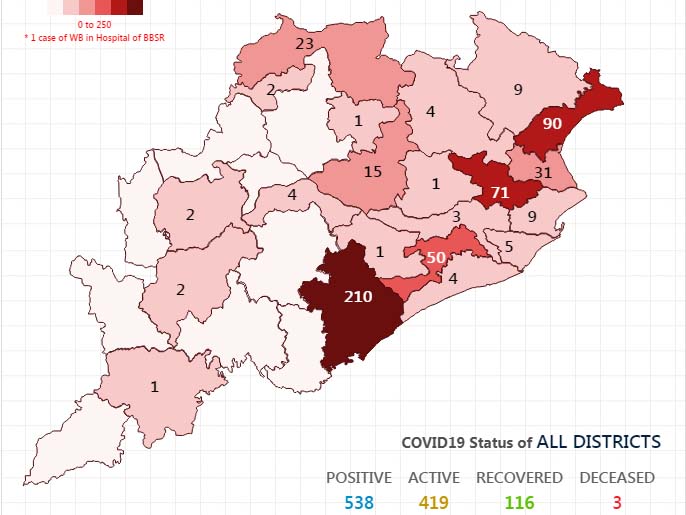 Odisha: doubling time declining  
With the return of migrant workers from Surat and other cities, Odisha is witnessing a sharp spurt in infection cases. While the state had reported its first COVID-19 case on March 15th, it took 40 days to touch the first 100 cases. But the state took only 11 days to add the next 100 cases as it crossed the 200-mark on 6th May.
1st case :15th March'20

100th case :25th April'20 (40 days)

200th case :6th May'20 (11 days)

300th case :9th May'20 (3 days)

400th case :11th May'20 (2 days)

500th case : 12th May'20 ( 1 day )
However, after the arrival of migrant workers, the cases spike exponentially as Odisha took only 3 days to touch 300 cases and 2 days to touch 400-mark. But with 100 cases in a day, Odisha's total number now crossed the 500-mark.