Bhubaneswar: Odisha on Wednesday reported 282 new COVID-19 positive cases including 26 local cases and 256 in the quarantine centres.
Out of the new cases, maximum 76 cases are from Gajapati district followed 75 from Ganjam and 26 from Khorda districts. Also, 8 persons from the National Disaster Relief Force (NDRF) who were returned from West Bengal has been reported corona positive.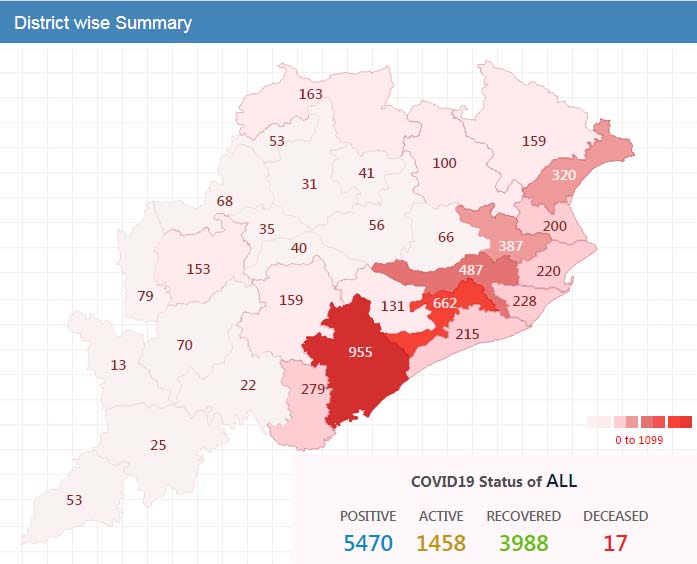 With this Odisha's COVID-19 tally has surged to 5752 which includes 1740 active cases, 17 deaths.  On the other hand, as many as 125 people have been declared cured by the authorities taking the total number of recoveries to 3988.  
The rising cases of local transmissions have raised concerns for the authorities as the state has reported 26 local cases today. The state had reported 17 local contacts on Tuesday. In the last 5 days has reported 110 local transmission cases raising the fear of community transmission in the state.
India's tally crosses 4.5 lakh
With over 15000 new cases, India's COVID-19 tally has climbed to 456183 on Wednesday including 183022 active cases, 14476 deaths and 258685 recoveries.

Meanwhile, as many as 215195 samples were tested in the last 24 hours out of which over 15 thousand samples were found to be positive. With this, the country has tested total 73,52,911 samples till 24th of June with a positivity rate of 5.8 per cent, the Indian Council of Medical Research (ICMR) said.