Bhubaneswar:  As many as 647 more persons tested positive taking Odisha's COVID-19 tally to 18757 including 5715 active cases and 97 deaths.
According to the data released by the state Information and public relations department (I&PR) out of the 647 new cases, 431 are from quarantine centres while the rest 221 are local contacts.
The situation in Ganjam has remained alarming as the district has added the highest 225 new positive cases taking the count to 1832. Cuttack has reported 84 new cases followed by Khordha 68 cases.
Meanwhile, as many as 457 persons have recovered taking the total number of recoveries to 12909.
Covid-19 Report For 20th July

New Positive Cases: 647
In Quarantine: 431
Local Contacts: 216

(Details of local contacts will be shared by concerned District Administration)

District Wise Cases
1. Angul: 37
2. Balasore: 40
3. Bargarh: 04
4. Bhadrak: 12
5. Bolangir: 5

— I & PR Department, Odisha (@IPR_Odisha) July 21, 2020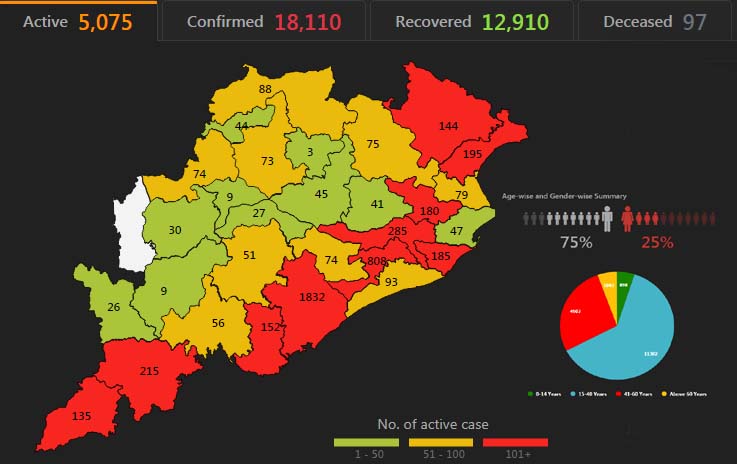 India's COVID-19 tally mounts to 11.55 lakh
NewDelhi: With 37148 new cases, India's COVID-19 tally has risen to 11.55 lakh as on Tuesday.
As per the latest data released by the Ministry of Health & Family Welfare, India's total cases rose to 1155191 by Tuesday morning. The total number includes 402529 active cases and 28048 deaths while 724578 people have been recovered from the viral infection.
The country reported record 37148 new cases and 587 deaths in the last 24 hours. With this India's mortality rate has remained stable at 2.8 per cent while the recovery rate has remained at 62.72 per cent.
Maharastra has remained the worst affected state in the country as its total number of confirmed cases has crossed 3.18 lakh including 131636 active cases and 12030 deaths. Maharastra is followed by Tamilnadu and Delhi with 175678 and 123747 confirmed cases.