Bhubaneswar: Odisha is on the verge of a drought as 27 out of 30 districts of Odisha have recorded severe rainfall deficit so far during the current Monsoon season, the Indian Meteorological Department (IMD) has twitted.
According to the rainfall information released by the IMD's Bhubaneswar Meteorological Centre, Odisha, as a whole has recorded cumulative rainfall of 584.3 mm as on 23rd August, a deficit of 31%.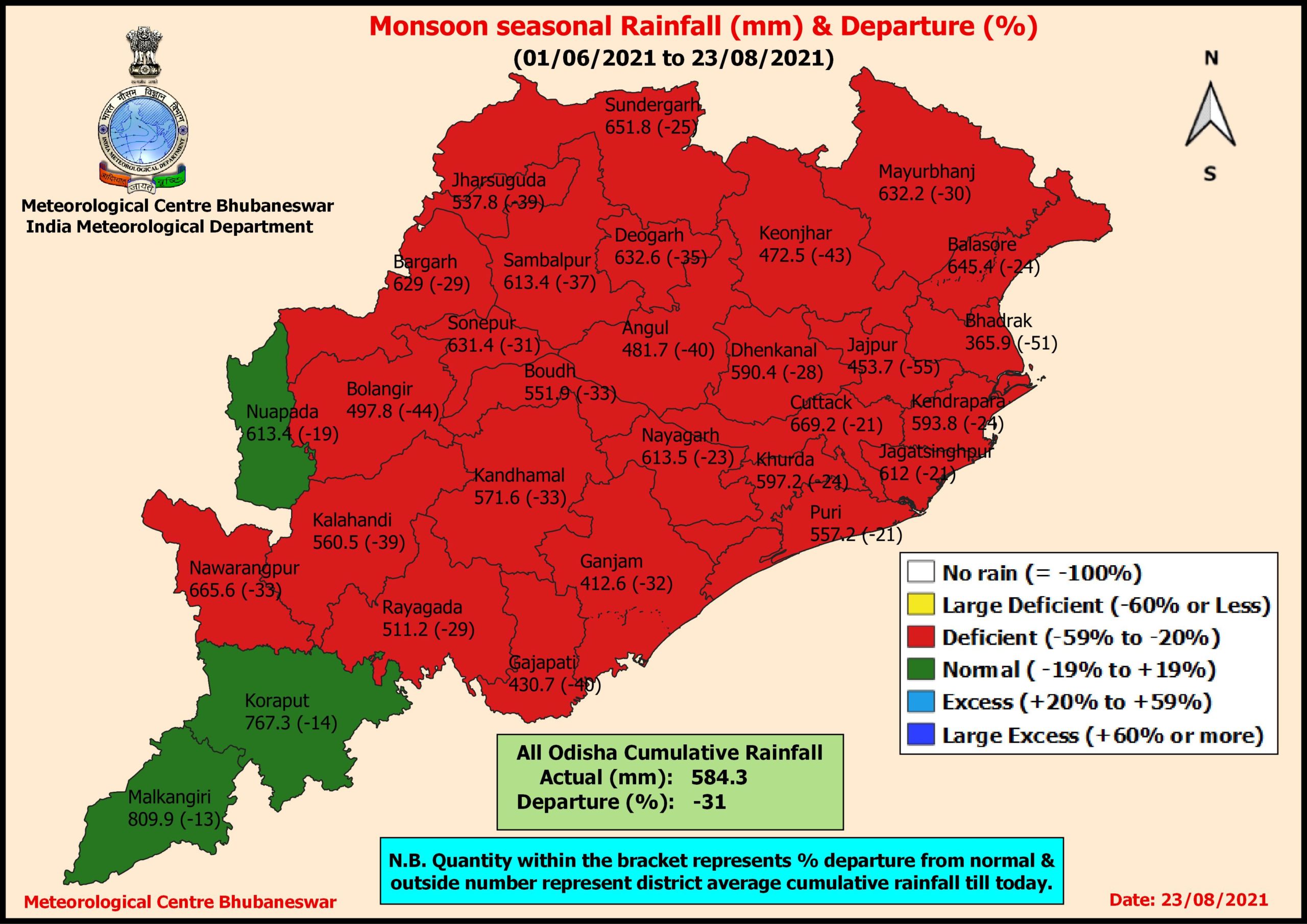 27 out of 30 districts of Odisha are facing rainfall deficit between -59% to -20% till August 23rd.   Only three districts, Malkangiri, Koraput and Nuapara have reported normal rainfall during the season.
Currently, the monsoon trough continues to pass through Bikaner, Shivpuri, Sidhi, Patna, Balurghat and thence eastwards to Nagaland.  The trough from cyclonic circulation over northeast Rajasthan to Telangana across West Madhya Pradesh and Vidarbha extending upto 1.5 km above mean sea level persists. Two days back, IMD had said that the South-West Monsoon has subdued in the state of Odisha.
The Odisha Chief Secretary Suresh Mohapatra today chaired a high level meeting to take stock of the situation. The meeting was attended by secretaries of all crucial departments and District collectors. He directed departments to arrange alternative sources of water for irrigation for the crops. The Chief Secretary has issued a directive to provide Employment to Agriculture labourers under MGNREGA and other government schemes.
Meanwhile, the Agriculture department has also directed Odisha University of Agriculture and Technology (OUAT) to prepare a contingency plan for all districts by 31st of August.