PPP in Railways, FDI in Aviation, Retail and Media, Social Enterprise on Stock Exchange among the major announcements of Nirmala Sitharaman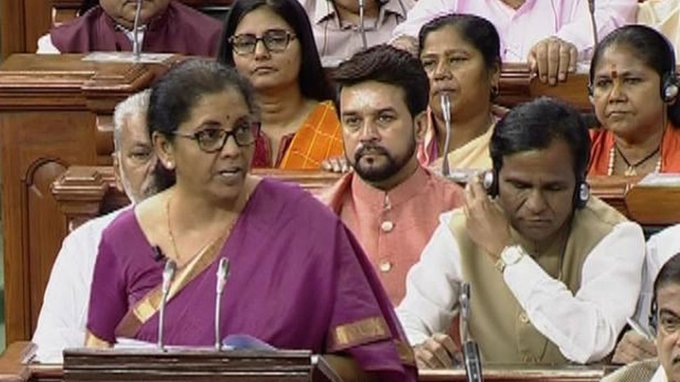 New Delhi : In her maiden budget Finance Minister Nirmala Sitharaman has made several major announcements to make India a USD 5 trillion economy by 2025.
Public-private partnership in railways, commercialization of space ventures under ISRO, plans to expand FDI in aviation and media, allowing social enterprises to list on stock exchange are among the major announcements made by finance minister Nirmala Sitharaman in her budget speech so far. She also promised that every rural dweller will have a house and access to clean cooking fuel by 2022.
Starting her budget speech, Ms. Sitharaman said, with the verdict of the general election, the people of India have validated their two goals for the country's future – national security and economic growth.
She said that first term of Prime Minister Narendra Modi led NDA govt stood out as a performing govt. Between 2014-2019 Prime Minister provided a rejuvenated centre-state dynamics, cooperative federalism, GST council and strident commitment to fiscal discipline and set the ball rolling for NewIndia.
She said that from 1.85 trillion dollars in 2014, the economy has reached 2.7 trillion US dollars and we can very well reach 5 trillion dollars in the next few years. She added the Indian economy will grow to become a 3 trillion dollar economy this year itself.
Finance Minister said Rs 350 crores have been allocated for 2% interest subvention for all GST-registered MSMEs on fresh or incremental loans.
Pension for shopkeepers & retailers with a turnover less than Rs. 1.5 crore to be launched under Pradhan Mantri Karma Yogi Maan Dhan Scheme.
Finance Minister said that schemes such as 'Bharatmala', 'Sagarmala' and UDAN are bridging the rural and urban divide and are improving our transport infrastructure. Railway infrastructure would need an investment of Rs 50 lakh crores between 2018 and 2030. PPP to be used to unleash faster development and the delivery of passenger freight services.
A comprehensive restructuring of National Highways Programme will be done, to ensure the creation of National Highways Grid of desirable capacity. The government envisions using rivers for cargo transport, it will also decongest roads and railways.
She said the government will invite suggestions for further opening up of FDI in the aviation sector, media, animation AVGC and insurance sectors in consultation with all stakeholders. 100% FDI will be permitted for insurance intermediaries.
The finance minister also said the amount spent on food security doubled during 2014-19 from the previous five years. Moreover, the number of patents tripled during 2018-19.