Bhubaneswar: After adding 100+ cases on Wednesday, Odisha reported 73 new cases on Thursday taking the total cases to 611.
The fresh cases are from Ganjam (42), Jajpur (17), Khordha (3), Bhadrak (9) and Sundargarh (2).
Out of Odisha's 611 cases, 465 are active cases while 3 persons have died and 143 persons have cured.
Total Positive Cases till 9 am: 611 Total Active cases:465
New positives:73

03 cases in Khordha
All In Quarantine Centres. Surat returnee

42 cases in Ganjam
All In Quarantine Centres. Surat Returnees

— I & PR Department, Odisha (@IPR_Odisha) May 14, 2020
Out of the 73 persons tested positive with Coronavirus, 50 have returned from Surat while 20 have travel history to West Bengal.
On Wednesday, Odisha had reported 103 cases, which is the highest ever one day surge in Cases. Out of these 90 are in the containment zones.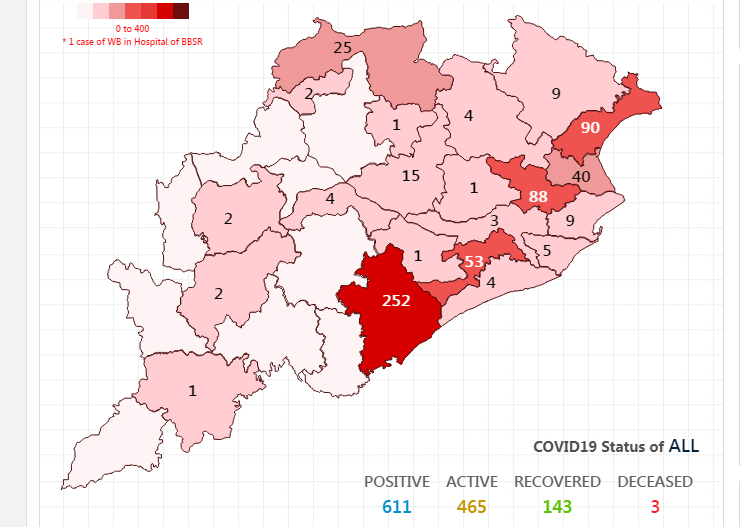 Odisha has managed to keep its cases under control till the return of the migrant workers. Odisha had reported its first COVID-19 case on March 15th and it took almost 40 days to cross the first 100 cases. But it took only 11 days to add the next 100 cases as it crossed the 200-mark on 6th May.
However, after the arrival of migrant workers, the cases spike exponentially as Odisha took only 3 days to touch 300 cases and 2 days to touch 400-mark. But with 100 new cases on May 13, Odisha's total number now crossed the 500-mark and with another 73 cases, the tally crossed 600-mark on Thursday.
However, according to experts, since most of these cases are coming from containment zones, the sudden spike in cases should not be seen as community transmission in the state.