Odisha renews focus on ancillary industries
IDCO to set up 23 new industrial parks in the state, Rs 600 crore earmarked for 3 years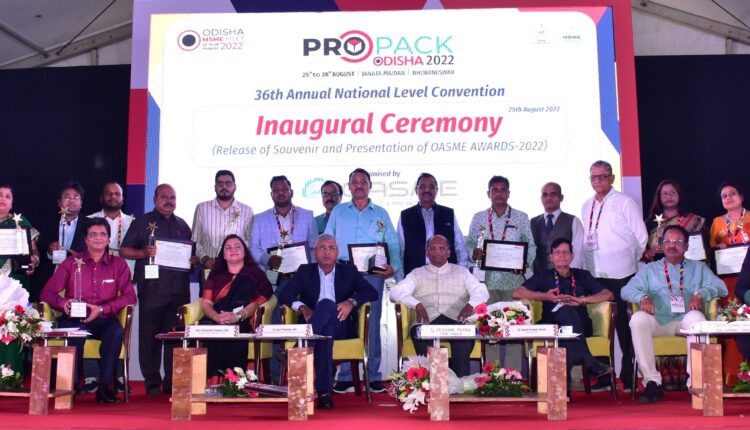 Bhubaneswar: In order to enhance employability and to accelerate the economic development of the state, Odisha government has renewed its focus and commitment for ancillary industries development. Principal advisor to Chief Minister, Odisha M. Asit Tripathy said that to achieve this vision, Government in association with Nalco and Vedanta has planned to set up two aluminum parks in Angul and Jharsuguda respectively for which work is already on. Apart from that IDCO has been given the task to set up 23 industrial parks in different regions. District Industrial Development Agency (DIPA) is also working for the development of industrial sector in district level led by District Collectors (DC). Government has fully committed for the industrial sector to grow and ready to act as facilitator on many front. He said.
Addressing the gathering at inauguration of Propack Odisha 2022 and Odisha MSME Meet 2022 organised by Odisha Assembly of Small and Medium Enterprises (OASME) at Jatana Maidan, Bhubaneswar to celebrate its 36th foundation, Mr Tripathy told that Rs 600 crores is earmarked for IDCO to set up industrial parks which will be allocated within next 3 years. IDCO also has been developing 11 industrial corridors alongside the Biju Expressway connecting Rourkela and Malkanagiri. State government is also considering a proposal to provide incentives for industrial development in the backward regions for which a new announcement is due. The Western Odisha Development Council Chairman Mr. Tripathy added.
On this occasion, Principal Secy of MSME department, Odisha Mrs. Rajnana Chopra said that Government tells all Discoms of the state to set up a separate MSME Cell to take grievance of Industrial houses related to electricity. We got to know about this problem in an Industry Care Meet organized at Kalinganagar, Jajpur. We are always in touch with all big, small and medium enterprises of all district and also trying to understand their expectation from government. As you know, in Odisha 95% enterprises are of micro and small and their contribution to employment generation is not encouraging at all. Government now wants to make sure micro enterprises become at least small one for which we are ready to lend required handholding supports. She said.
OASME Secy General Mr Satwik Swain presents annual report of 2021-22 and said that we have planned for eastern regions largest Engineering Common Facility Centre with an investment of Rs 30 crore near Choudwar, Cuttack with help of state and Central government for which 6 acre land is also allotted to us. He also said that India-Iran Trade Centre office is also set up at OASME to facilitate bilateral trades and investments.
Other dignitaries present at the event are Gauri Sankar Dash, Chairman, OASME, Dr Sarat Kumar Sahoo, Executive Chairman, OASME, Sridhar Patra, CMD, Nalco, P K Gupta, Joint Director & HOO, MSME-DFO, Govt of India, Cuttack and others. OASME awards also provided to winners and OAMSE souvenir also released by guests.
National level exhibition ProPack Odisha -2022 which has started from today will run from 25th to 28th August 2022 at Janata Maidan Exhibition Ground, Bhubaneswar. More than 40 industries from packaging and food processing sector of India and a multinational company from Iran have participated in the event. More than 100 SMEs from across Odisha also participated in the exhibition.
This one of kind exhibition in Odisha will provide perfect platform to participating industries to deliberates on important issues, showcase their products and services and to connect with each other and share ideas. It aim to offer to showcase of new business and networking opportunities to the state MSMEs and also support to creation of new markets and business channels for exhibitors.