NewDelhi's unique way to send daily reminders to Pakistan that PoK, Gilgit-Baltistan are Indian Territory
Bhubaneswar:  By including Pak Occupied Kashmir (PoK), Gilgit-Baltistan weather forecasts in its daily weather bulletin, India will now send a daily reminder to Pakistan that these territories are its integral part. The move is believed to be India's response to Pakistan's move to hold fresh elections in the Gilgit – Baltistan region.
However, the Indian Meteorological Department (IMD) has made it clear that there is no specific order from the government of India to provide weather update for these regions. IMD provides weather updates for the entire Indian Territory and since these regions are integral parts of India, there is no need for any order.
"For the last few months, IMD is providing city-specific weather updates. Since PoK and Gilgit – Baltistan are Indian Territory, we are providing weather updates for the cities located in these areas also. IMD also provides weather updates for the entire South-Asia region which includes Pakistan also" said Mrityunjay Mahapatra, DG, IMD to a private TV channel.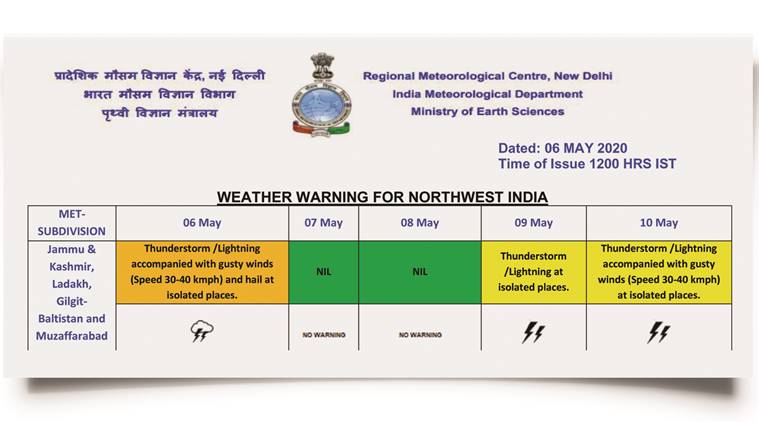 After IMD, Doordarshan (DD), India's government-owned broadcaster has decided to include Mirpur and Muzaffarabad in Occupied Kashmir and Gilgit in Northern Areas in its weather forecast.
In January 2019, Pakistan's Supreme Court had ruled that its powers extended to "Gilgit-Baltistan". Last week, Pakistan's top court Court went a step further and allowed the Pakistan government to amend the Government of Gilgit-Baltistan Order 2018 to set up a caretaker administration in the region to conduct fresh elections.
India claims the whole of the erstwhile state of Jammu and Kashmir, including the Gilgit-Baltistan region, which was given near-provincial status by the Pakistan government in 2009.
Last year India revoked the article-370 which provides special autonomy to the Jammu & Kashmir provoking sharp reactions from the Pakistan government. Indian Home Minister Amit Shah Also reiterated his government's stand that PoK, Gilgit-Baltistan are integral to India.