Mumbai: After hitting the lower circuit in the opening trade, the indices witnessed sharp recovery following the 45-minute halt. While the BSE Sensex gained over 3,000 points, the NSE Nifty increased by 2500 points to regain the 9,700 points mark. While stocks like Sun Pharma, Eicher Motors, Ultratech cement, Bajaj Finance turn green, stocks like IndusInd bank, Adani ports, Tech Mahindra and ONGC are still in the red zone.
Meanwhile, the Indian Rupee has also recovered after hitting a record low in the morning trade. The Rupee recovers by 50 paise and currently it its trading at 74.03.
BSE top Gainer and Losers at 11.10 am, 13th March 2020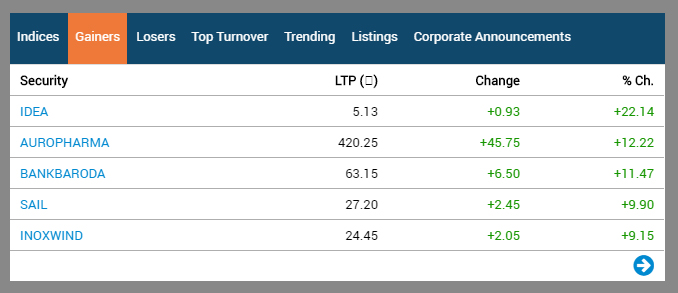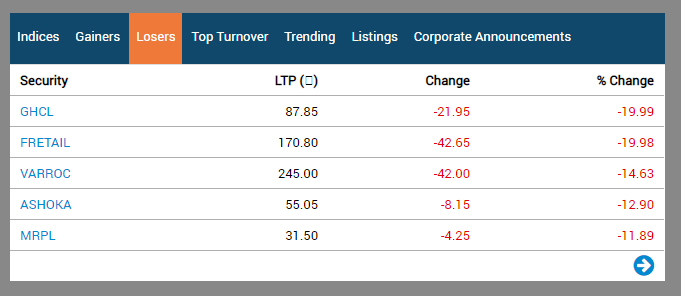 March 13, 9.30 am
Sensex crashes by 3090 points, Nifty drops below 8700 points in the opening trade
Mumbai : The bloodbath at the Dalal street continued on Friday as the indices slipped further in the opening trade on Coronavirus fear.  The BSE Sensex plunged by 9.43% or 3090.62 points to drop below the 30,000 point mark. The NSE Nifty also dropped by 10.07% or 966.10 points to reach below the 8700 point mark. The trading has been halted for 45 minutes in both BSE and NSE as both the indices hit 10% lower circuit. Markets to re-open at 10.05 am. From 10.05 to 10.20 am a 15 minute pre-opening session will be conducted and after that normal trading will resume at 10.20 am.