India's COVID-19 tally crosses 2-million mark, one million cases added in 20 days, Rahul targets Govt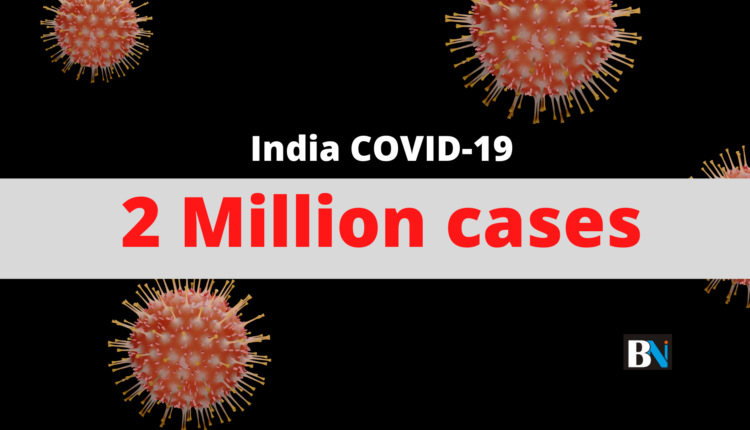 Bhubaneswar: 20 days after crossing one million cases, India's COVID-19 tally has crossed the 2 million mark on Friday.
As per the latest data released by the Ministry of Health & Family Welfare, India's total cases rose to 20,27,074 by Friday morning. The total number includes 607384 active cases and 41585 deaths while   1378105 people have been recovered from the viral infection.
India reported its first COVID-19 case on 30th January 2020 when a person from Kerala tested positive with the virus.  The total number of cases crossed the 100-mark on March 15 and 1000-mark on 28 March. On 14th April India's total cases crossed the 10000-mark and on May 7 total cases crossed the 50-thousand mark. Total cases crossed one lakh on 19th May and ten lakh on 17th July.
20 लाख का आँकड़ा पार,
ग़ायब है मोदी सरकार। https://t.co/xR9blQledY

— Rahul Gandhi (@RahulGandhi) August 7, 2020
Congress leader Rahul Gandhi has once again targeted the Modi government on the rising COVID-19 tally in the country. " The tally has crossed 20 lakh, but the Modi government has disappeared" he twitted.
The country reported record 62,538 new cases in the last 24 hours. This is the highest ever one-day addition of cases to the tally. However the good news is that  India's mortality rate has declined to 2 per cent while the recovery rate has improved further to 68 per cent.
Meanwhile, as many as 5,74,783  samples were tested in the last 24 hours out of which nearly 52 thousand samples were found to be positive. With this, the country has tested total 2,27,24,134 samples till 6th QAAugust with a positivity rate of 8.9 per cent, the Indian Council of Medical Research (ICMR) said.