Biznextindia: Indicating improvement in economic activities, India's crude steel production has increased by 7.6 per cent in January to 10 million tonnes, data released by World Steel Association (worldsteel) said.
In its monthly report on world steel output, World Steel Association has said that Global steel output (for the 64 countries reporting world steel Association) increased by 4.8% to 162.9 million in January 2021, as compared to January 2020.
China, the world's dominant steel producer has reported 6.8 per cent rise in crude steel output to 90.2 million tonnes.
However, Japan, the world's 3rd largest steel producer has reported 3.9 per cent drop in steel production to 7.9 million tonnes. The United States has also reported 10 per cent dip in steel output to 6.9 million tonnes.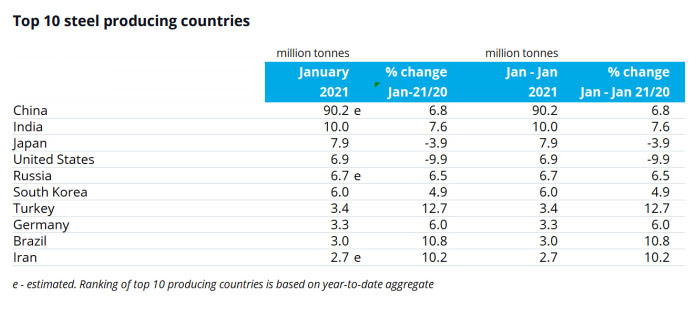 In 2020, Global steel production had dropped by 0.9% to 1864 million tonnes (Mt) mainly due to significant drop in production in leading steel producing countries like India, Japan and South Korea.