CSM Tech partners with IIT Madras' Raftar team to build world's fastest autonomous EV racecar by 2025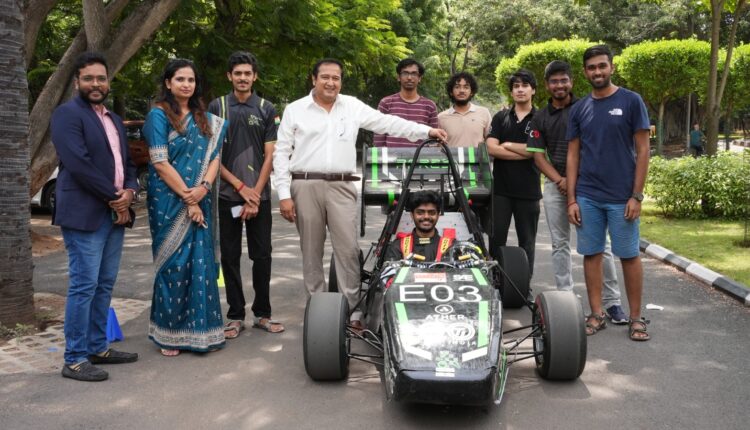 Bhubaneswar: Odisha-based CSM Tech has teamed up with IIT Madras to help build the world's fastest, autonomously driven electric racecar by 2025. In this innovative venture, CSM Tech is providing support to Raftar, an enthusiastic motorsports team led by students from IIT Madras. Comprising over 40 students hailing from diverse academic backgrounds, the members of Raftar share a fervent dedication to the realms of automotive engineering and motorsports. Each year, the team enthusiastically undertakes the challenge of constructing an agile Formula Student racecar. Their ultimate ambition is to ascend as the nation's most proficient and harmonious assembly of engineering talents.
Industry partnerships play a pivotal role in the design, development and adoption of electric vehicles (EVs). The synergy between a tech company like CSM and an academic and research institution of IIT Madras' repute brings in a string of benefits like shared expertise and resources, cost sharing and risk mitigation, accelerated research and development, standardization and interoperability, policy advocacy, ecosystem development and knowledge exchange. CSM has been a strong votary of Make in India and Atmanirbhar Bharat as these Government initiatives are aimed at creating and nurturing a virtuous cycle of growth, innovation and self-reliance.
Keeping to that credo, CSM Tech has inked anMoU with IIT Madras to power the ambitious dream of developing a disruptive racecar underpinned by indigenous capabilities. The MoU was inked between Priyadarshi Nanu Pany, Founder & CEO of CSM Tech, Lagna Panda, the company's Chief Human Resources Officer (CHRO), and Prof. Manu Santhanam, Dean of Industry Contribution & Sponsored Research at IIT-Madras. Prof Aravind Kumar Chandiran, Associate Professor of the Department of Chemical Engineering, and several members of the Raftar Team were present during the MoU signing.
Speaking on the occasion, CSM's founder & CEO, Mr. Priyadarshi Pany, said, "This is the future. I am backing it. What the students and faculty of IIT-M can achieve with indigenously built electronics, embedded technologies, and cross-domain expertise is simply spectacular".
Mr. Pany advised members of Team Raftar to stay aligned with the envisioned goals.
"The efforts by Raftar have the potential to be a game-changer in the passenger vehicle as well as heavy vehicles, telemetry, vehicle tracking, and much more. This team is a force to reckon with, and I urge them to keep working towards taking the nation forward and upward. The next big innovation of the automobile industry should originate in India", he added.
Concurring with Mr.Pany's thoughts, Prof. Santhanam underscored the role of industry partners in enabling and empowering the engineering ecosystem at IIT, especially Team Raftar. He accredited the students for the temperament and determination to lead such a complex project, executing it excellently and refusing to give in or give up even when faced with insurmountable challenges.
Started in 2012 as a student's club in 2008 for building a blazing-fast combustion-driven sportscar, the team has won the Formula Bharat thrice, the topmost motorsports event in the country for educational institutions, more than any other peer. It has also shone brightly abroad at events like Formula Germany and established itself as a formidable force in the university-level combustion and EV categories.
CSM has started supporting IIT-Madras under the CSM Foundation, the company's non-profit arm that conceptualizes and backs unique CSR interventions. Last year, it instituted a scholarship at IIT Delhi for the undergrad program, pledging to continue it for a decade. In synchrony with the vision of its top leadership, CSM Tech will continue to support institutions of national eminence in the field of education and work towards improving access to higher education.