OPEC sees India's oil demand to rise by 13.6% to 4.76 million bpd in 2021
Bhubaneswar: India's crude oil demand set to rise by 0.59 mb/d or 13.6 per cent to 4.76 million barrels/day (mb/d) in 2021(Jan-Dec) from 4.19mb/d in 2020, OPEC said on Thursday in its January issue of oil market report.
The report said that India's oil demand to remain flat in the first half of 2021, but a substantial recovery is expected in the 2nd half.
India's oil demand, which was 4.54 mb/d in Q4 of 2020, is projected to rise to 4.89 mb/d in the Q1 of 2020 (Jan-March). But the demand is expected to decline to 4.19 mb/d in the Q2. But the demand is projected to rise substantially to 4.75 mb/d and 5.19 mb/d in the Q3 and Q4 respectively.
"Despite the recent y-o-y drop in demand, signs of positive developments continue to emerge especially in India's industrial sector. Given the challenges that the Indian economy is currently facing, it remains to be seen if the economic recovery will continue. The unemployment rate and the size of stimulus measures are important factors to monitor going forward. For the last year, oil demand is foreseen declining despite improvements in 4Q20, led by industrial fuels and gasoline" OPEC said in its report.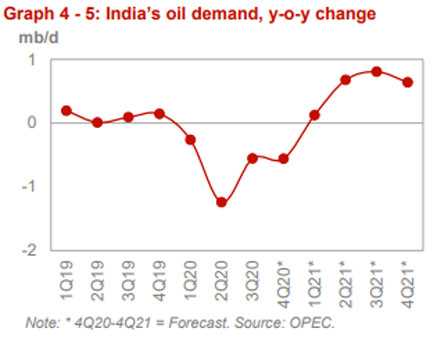 "This momentum is anticipated to continue into 1Q21 and a substantial recovery is projected to take place in the 2H21. However, COVID-19-related uncertainties will remain a downside risk to the oil demand recovery in the near future. The containment of the COVID-19 pandemic is projected to allow transportation fuels to rebound swiftly, as well as support healthy recovery in economic activities. The latter is a reflection of policy measures encouraging growth in private consumption and investments. Together with the baseline decline of 2020, oil demand is projected to record gains in 2021. Demand for transportation fuel will lead product demand followed by middle distillates" the report added.
The report has projected that the world oil demand set to rise by 5.9 million barrels per day (bpd) in 2021 from an estimated average demand of 90 million bpd in 2020.