Modi Govt announces Mega Merger of Banks, 10 banks merged into 4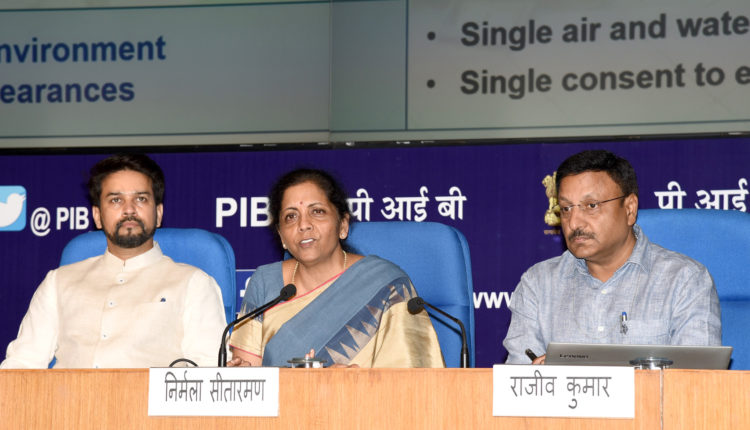 NewDelhi:  Continuing the economic reform process, the Modi government on Friday announced major reforms in the ailing Indian Banking sector. As per the decision, the existing 27 PSU banks will be merged into big 12 PSU banks .
Punjab National Bank (PNB), Oriental Bank of Commerce (OBC) and United Bank of India will be merged into one large banking entity which will be the second largest PSB with the business of 18 lakh crore rupees and second-largest branch network in the country. The government also announced the merger of Canara and Syndicate Banks which will be fourth largest PSB with 15.2 Lakh Crore rupees of business.
Union, Andhra and Corporation Banks will also be merged to become fifth largest PSB with 14.6 lakh crore of business and fourth largest branch network in India. After consolidation, Indian and Allahabad Banks will be seventh-largest PSB with 8.08 lakh crore rupees of business.
Briefing media persons in New Delhi today, Finance and Corporate Affairs Minister Nirmala Sitharaman said, there is a need to strengthen the foundation of the banking sector. She said, the government is taking steps to clear the path to achieve a five trillion dollar economy. Reforms will fundamentally reboot Public Sector Banks (PSBs) functioning. Recurrence of past weaknesses is now unlikely as the firm foundation is being laid for robust PSBs. The Finance Minister said, the government is trying to build next-generation banks. She said, eight PSU banks have launched repo-linked loans in last one week.
Ms Sitharaman said, no interference in the bank's commercial decisions. The gross bad loans of public sector banks have come down to  7.9 lakh crore rupees from 8.65 lakh crore rupees in December last year.
Listing out the decisions, she said, 3 lakh 38 thousand shell companies have been struck off. NFRA has been set up as an independent regulator of auditors. Restructuring schemes have been withdrawn. Four NBFCs have already found their solutions through PSBs.
Four NBFC are working on liquidity issue. Loans above 250 crore rupees are being closely monitored. Swift transactions are linked to core banking solutions. All PSBs to have non-Executive chairman position.