Biznextindia : The Organization of the Petroleum Exporting countries (OPEC)  has slightly raised India's oil demand for 2021 to 5 million barrels per day (mb/d) on anticipation of solid recovery in the second half of the year.
OPEC, in its monthly oil market report said, India's oil demand is expected to bounce back in the second half (July-December) driven by the low baseline and uptick in gasoline and diesel demand in transportation, construction and agriculture.
India's oil demand, which was 4.94 mb/d in the first quarter (Jan-Mar), is likely to plunge to 4.52 mb/d in the 2nd quarter( Apr-June). Oil demand is anticipated to rise to 4.91 mb/d and 5.61 mb/d in Q3 and Q4 respectively.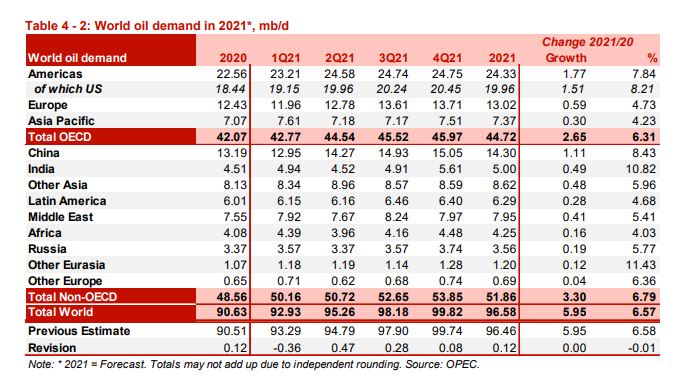 The organization in its May report had cut India's oil demand growth to 4.88 mb/d from 4.99 mb/d in April after resurgence of deadly second wave of COVID-19 pandemic.
"Daily new COVID-19 cases increased in May, forcing states to implement lockdowns and other restrictions that led to steep decline in mobility. The decline in transportation fuel demand was already a factor in 2Q21 data and the recovery will be slower as compared to initial expectations. As COVID-19 cases come under control and restrictions are eased towards 3Q21, oil demand, led by transportation fuel, is projected to show solid gains throughout the reminder of year" said OPEC in its monthly oil market report.
However, the report cautioned that the demand recovery in the second half could be uncertain due to a possible third wave of the pandemic and emergence of a new variant. Also high retail prices and higher tax on oil will add to the uncertainty.
"That said, uncertainty will remain high mainly related to a possible new wave of COVID-19 or the emergence of new variants, in addition to the pace of vaccinations in the country. Moreover, high retail prices and the government excise tax policy add uncertainty going forward. Oil demand growth is anticipated to pick up pace in 2H21, driven by the low baseline and uptick in gasoline and diesel demand in transportation, construction and agriculture"