Bengaluru : Prime Minister Narendra Modi on Monday inaugurated the 14th edition of Asia's biggest aero show – Aero India 2023 – at Air Force Station, Yelahanka in Bengaluru on February 13, 2023. The five-day event, on the theme 'The runway to a billion opportunities', will showcase India's growth in aerospace and defence capabilities.
The Prime Minister said that Aero India 2023 is a shining example of India's growing capabilities and the presence of around 100 nations at this event shows the trust that the entire world shows in India. He noted the participation of more than 800 exhibitors including Indian MSMEs and startups along with the well-renowned companies of the world.
Speaking on the occasion Defence Minister Rajnath Singh asserted that India has become a promising manufacturing destination due to its business-friendly environment and cost-competitiveness. "India has become the fifth largest economy in the world due to the vision and determination of our Prime Minister. It is well on course to become the third largest economy in the next 4-5 years. India's G-20 presidency this year is also a reflection of India's growing stature on the international platforms," he said.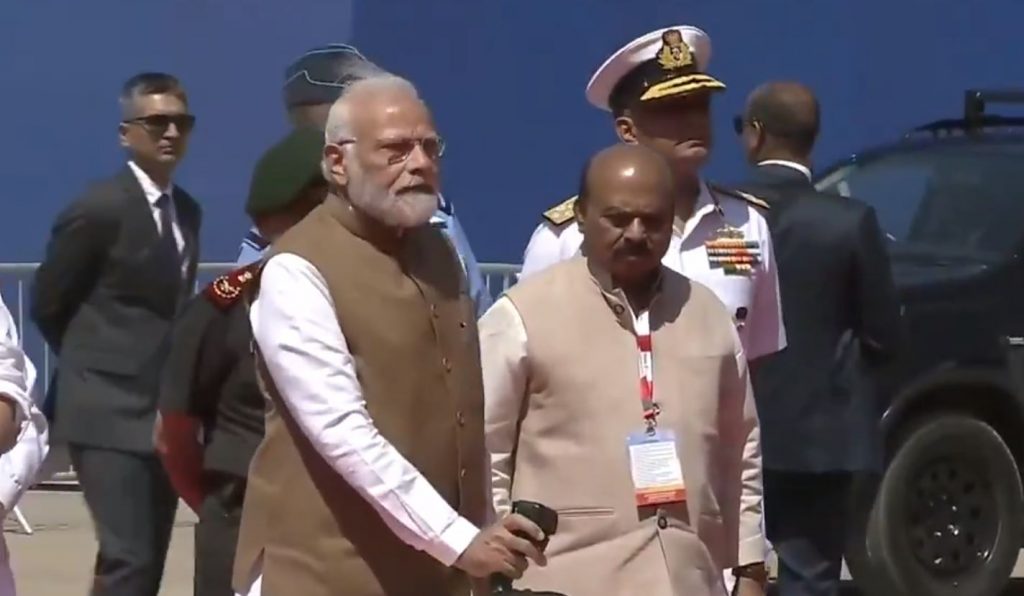 The five-day event will conclude on 17th February. The February 13th to 15th will be business days, while 16th & 17th have been set as public days to allow people to witness the show. The event comprises a Defence Ministers' Conclave; a CEOs Round Table; Manthan start-up event; Bandhan ceremony; breath-taking air shows; a large exhibition; India Pavilion and a trade fair of aerospace companies.
Organised at Air Force Station, Yelahanka in a total area of around 35,000 sqm, the event, the biggest-ever till date, is likely to witness the participation of 98 countries. The Defence Ministers of 32 countries, Air Chiefs of 29 countries and 73 CEOs of global and Indian OEMs are expected to attend the event. Eight hundred and nine (809) defence companies, including MSMEs and start-ups, will showcase the advancement in niche technologies and the growth in aerospace and defence sector.
Airbus, Boeing, Dassault Aviation, Lockheed Martin, Israel Aerospace Industry, BrahMos Aerospace, Army Aviation, HC Robotics, SAAB, Safran, Rolls Royce, Larsen & Toubro, Bharat Forge Limited, Hindustan Aeronautics Limited (HAL), Bharat Electronics Limited (BEL), Bharat Dynamics Limited (BDL), and BEML Limited are among the top exhibitors in the show.
Five lakh people are anticipated to physically attend the event, while many more millions will connect virtually through television and the internet. At Aero India 2023, cutting-edge technology, design leadership, and UAV industry expansion will all be on display. The event's goal is to promote the export of domestic aviation platforms such the Light Combat Aircraft (LCA)-Tejas, the HTT-40, the Dornier Light Utility Helicopter (LUH), the Light Combat Helicopter (LCH), and the Advanced Light Helicopter (ALH).