Biznextindia :  Indian Digital Lifestyle and Audio Accessories brand pTron has launched its newest edition of smart wearables – the Pulsefit P261 Smartwatch and Pulsefit F121 Smartband.  Both the products come with 1-yr standard brand warranty and is currently available on sale on Flipkart.com from 13th June 2021.
pTron Pulsefit P261 Smartwatch :
pTron Pulsefit P261 Smartwatch is featuring an elegant 1.54- inch curved display with a metal casing and a 240 x 240 HD resolution. With a slim and light form factor, Pulsefit P261 is designed to provide maximum comfort for all-day wear.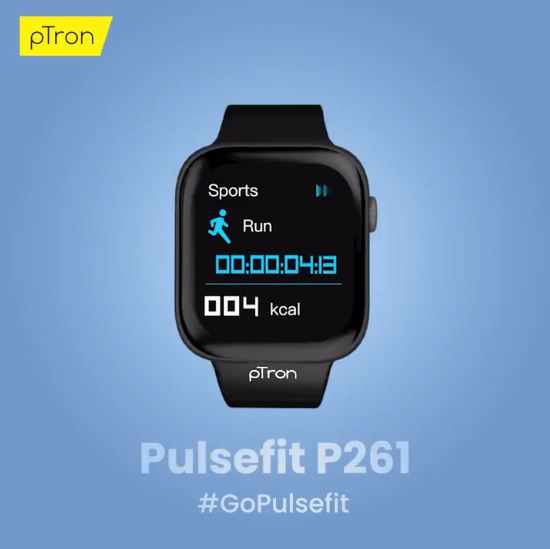 Packed with advanced features like touch enabled Wireless calling with Smart Notifications, 8 sport modes for precise workout metrics, and customizable watch faces, the smartwatch is expected to be India's new affordable destination of fashion, connectivity, and health tracking. Available in 2 sporty colorways – Steel Blue & Inferno Black, the customizable silicone band combined with anodized aluminum finish look dial of the Pulsefit P261 offers sophisticated & modern aesthetics to complement any style or look.
pTron Pulsefit F121 Smart Fitness Band :
pTron Pulsefit F121 Smart Fitness Band ensures high performance and adherence to uncompromising requirements in terms of extended battery life of 5 days on a single charge, resolute connectivity with BT v4.0, step count, heart rate & sleep monitoring, and ease of maintenance – at an attractive price of only INR 899. The smart fitness band also features an IP65 rating for water and dust resistance allowing protection from sweat & water during intense sessions.
The band offers 5 active fitness modes, and a super convenient plug-to-charge USB charging feature. Available in 4 different colorways of the strap – Active Green, Tor Red, Racing Blue & Onyx Black, the Pulsefit is designed for all types of workouts or a sportier look.