Biznextindia: While, the whole world is struggling with the economic recession caused by the pandemic, Mukesh Ambani, India's richest man and Chairman of Reliance Industries is on a dream run.  With a series of foreign investments and a successful rights issue has propelled his company to the cloud-nine.
Since the beginning of the lockdown in the 3rd week of March till date, Mukesh Ambani's real-time net worth has almost been doubled due to rise in RIL's market capitalization, which has breached the USD 150 billion mark. Mr. Ambani controls 42 per cent of Reliance Industries, which has interests in sectors like Energy, 4G wireless services and Retail.
As per the Bloomberg Billionaire Index, Mukesh Ambani's real-time wealth was USD 32.6 billion in 23rd March, one day before the announcement of the lockdown.  Today, after 94 days, while the country is yet to be fully opened, Mukesh's wealth has risen by 96 per cent to USD 68.8 billion making him Asia's richest and the world's 9th richest man.
However, his real-time wealth has registered 9 per cent growth which was 51.7 billion a year ago. But his wealth was dropped to USD 32.billion in March mainly due to drop in the share price of RIL below Rs.1000 during that time.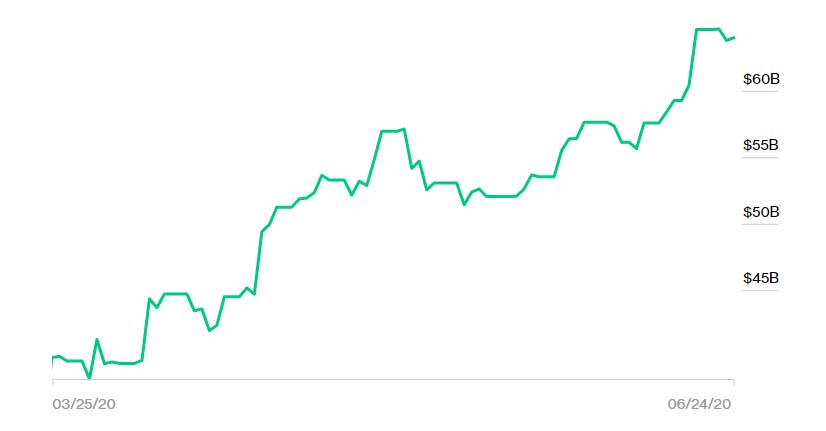 On March 23, RIL share dropped to 6-month low of 875.9. However, the company has witnessed a sharp turnaround in its fortunes since then after raising Rs.1.68 lakh crore from global investors and through a rights issue to become debt free.
The conglomerate has raised the Rs.1.68 lakh crore in just 68 days including 115,693 crore through investments by global technology investors and Rs. 53124 crore by its Rights Issue. Along with the stake sale to BP in the petro-retail JV, the total fundraising is in excess of Rs. 1.75 lakh crore.
The company's net-debt was Rs. 161,035 crore, as on 31st March 2020. With these investments, RIL has become net debt-free.