Bhubaneswar :  Santosh Kumar Amat who had quit IRS in 1993had joined the ruling BJD in 2017 may be nominated to the Rajya Sabha seats from Odisha, elections for which will be held next month.
Western Odisha's fire brand and well-educated tribal leader Sri Amat, is the blue-eyed boy of BJD  supremo and Chief Minister Naveen Patnaik, was made the first chairman of the Special Development Council & also Penalist in order to counter BJP MP Jual Oram in Sundergarh in 2017has clean image & wide acceptability across all sections of society.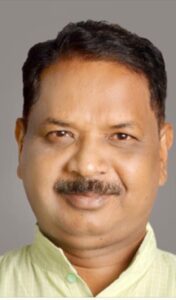 At the last moment Sundargarh MP seat was declared for woman in 2019 and BJD lost by 2.24 lakh votes 5 tribal MLA seats as well.
To counter that in 2024 general elections, there is whispers in power corridor that Santosh Amat is likely to be nominated to the Rajya Sabha.
Notably, Elections to three seats which will fall vacant following completion of the tenure of BJD members — N Bhaskar Rao, Prasanna Acharya and Sasmit Patra — will be held on June 10.
The fourth seat that fell vacant after the resignation of BJD member Subhash Chandra Singh, who has been elected as mayor of Cuttack Municipal Corporation, will go to polls on June 13.