Lockdown : These labourers walked 536 Kilometres on Railway line eating only biscuits
Planned to walk another 800 kilometres to reach their village in Jharkhand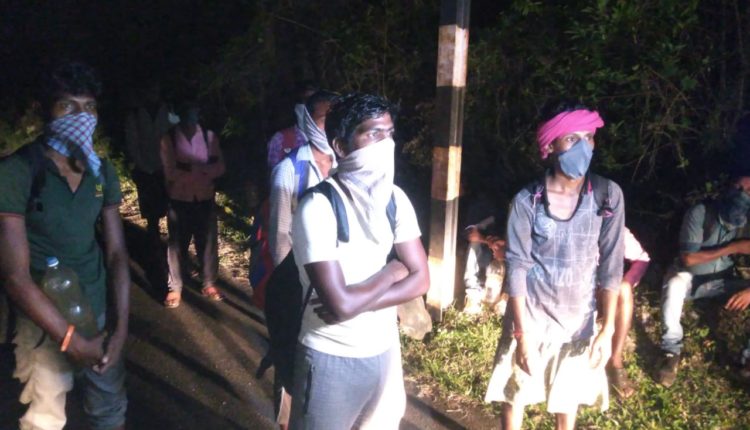 Bhubaneswar: While, the nationwide lockdown has severely impacted the people from all walks of life, the most affected are the poor and weaker section of the society.
The lockdown is gradually becoming a humanitarian crisis across the country as thousands of people are struggling to cope with this challenging time. Daily wage labourers and poor people working in the unorganized sector in the metros are struggling the war of their lifetime.
Every day we can find extraordinary struggles by these people walking or cycling hundreds of kilometers to reach their villages.
In such a story of extraordinary courage and struggle, a team of 12 labourers, most of them at their 20s, from Jharkhand's Koderma district have walked from Vijayawada in Andhra Pradesh towards their home state. For the last 14 days, they were walking on the railway line and crossed about 536 kilometres surviving only with biscuits and water. Everyday, they would walk in the daytime and hide in the forest in night fearing the police.
"We were working in a construction company in Vijaywada, but after the enforcement of the lockdown, the company had halted its construction works and vacated our labour camps. The company even refused to pay our dues leaving us shelterless and penniless.  After struggling for 2-3 days in hunger and despair, we had no way but to walk back home. " said Pramod Ram, one of the laborers.
"We decided to walk along the Railway line as we feared the police will pick us up if we go on the road.
After getting this information from the local folks, the rapid response team of Odisha's Rayagada district administration has rescued them and has sent them to the local quarantine centre.
"Had we not been stopped at Rayagada, we would have to walk for another 800 kilometers to reach their village", he said.
It may be noted that, the distance between Jharkhand's Kanti Village in the Koderma district is about 1333 kilometres from Vijaywada.