Cyclone FANI 240 km away from the Puri Coast, may make Landfall before 10 am tomorrow
Odsha evacuates more than 1 million people to safe selters, Flight operation cancelled to Bhubaneswar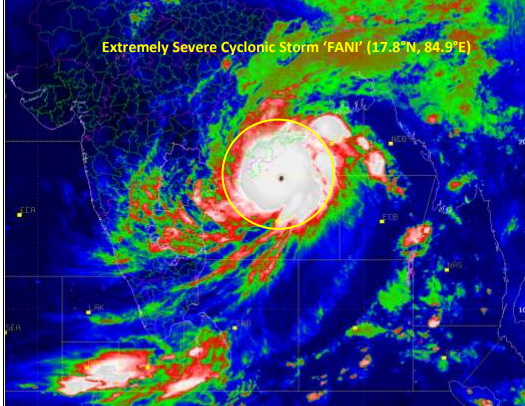 Bhubaneswar: The  extremely severe cyclonic storm FANI over west-central Bay of Bengal (BoB) has moved north-northeastwards and lay centered at  about 240 km south-southwest of Puri (Odisha), 160 km east-southeast of Vishakhapatnam (Andhra Pradesh) and 540 km south- southwest of Digha (West Bengal). It is very likely to move north-northeastwards and make landfall near Puri during forenoon  ( between 8am to 10 am)of 3rd May, with maximum sustained wind speed of 170-180 kmph gusting to 200 kmph.
The Odisha government has initiated a large scale evacuation process involving 11 lakh people. The state government has already evacuated about 75% people to safe places, the Special Relief Commissioner (SRC) Vinshnupada Sethy said.
Meanwhile, civil Aviation Ministry has directed closure of flight operations at Biju Pattnaik Airport in Bhubaneswar from midnight for 24 hours. Several carriers like Indigo, Spicejet, Vistara, AirIndia have cancelled their flights to the Bhubaneswar Airport. The East-Coast Railways has also cancelled hundreds of trains and diverted several other trains.
According to IMD bulletine, Landfall process is very likely to continue till noon/afternoon of tomorrow the 3rd May. After the landfall the system is very likely to continue to move north-northeastwards, weaken gradually and enter into West Bengal as a Severe Cyclonic Storm with the wind speed of 90-100 kmph gusting to 115 kmph. It is very likely to move further north- northeastwards and emerge into Bangladesh on 4thApril evening as a Cyclonic Storm with wind speed 60-70 kmph gusting to 80 kmph. The cyclone is being tracked by Doppler Weather Radars Vishakhapatnam & Machilipatnam.