Bhubaneswar: The severe cyclonic storm 'Yaas' centered over the east central Bay of Bengal is gradually moving in the north-west direction towards the Odisha coast. In the next 12 hours, it'll further intensify into a very severe cyclonic storm and make landfall between Paradip of Odisha and Sagar Islands of the West Bengal during noon of 26th May with a maximum sustained wind speed of 155-165 km/ hour and gusting to 185km/hour.
Meanwhile, the exact location of the landfall is yet to be ascertained by the Indian Meteorological Department (IMD) and other weather agencies.
While IMD has predicted that the cyclone could make landfall between Dharma and Chandbali of Odisha, the US Navy has predicted that it'll touch the coast near Bhitarkanika of Odisha's Kendrapara district and Skymet has preducted near Balasore.. However, in the coming hours the exact landfall location is likely to be pointed out by the weather agencies.
"The system is forecast to remain in the marginally favorable environment for the next 24 hours up to landfall at 26/00z as it will continue to intensify and track north-northwestward along  the western periphery of a subtropical ridge to the northeast. After  tau 12, the vertical wind shear is forecast to decrease to <15 kts, allowing tc 02b to reach a peak intensity of 70 kts by tau 24 while  making landfall near bhitarkanika national park, india" read an alert by the US Navy.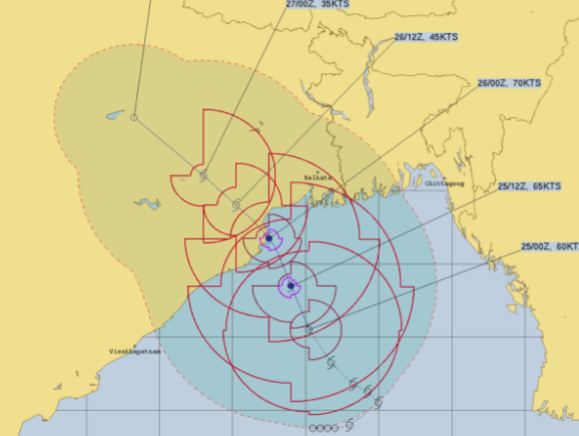 'Yaas': the fastest growing cyclone in shortest time
Meanwhile, India's private sector weather agency skymet Weather has predicted, the possibility of cyclone 'Yaas' becoming a Extremely Severe Cyclone' is less as the cyclonic system will remain in the sea for a lesser duration as compared to powerful storms like the Super Cyclone  of 1999. However, in terms of damage potential, 'Yass' will compete with Fani and Amphan.
"The storm will fast approach the coastline and therefore may fall short of becoming an Extremely Severe Cyclonic Storm which is packed with winds in excess of 166kmh and going up to 220kmh. Storm Yaas will possibly go on record to become the fastest growing cyclone in the shortest possible time of about 48 hours. In terms of its damaging potential, the storm will compete with Fani and Amphan" said skymet.