Biznextindia : As India is fighting with the deadly second wave of the COVID-19 pandemic, the whole world has come out in support and solidarity with the South Asian nation.
Showing solidarity with India, the world famous Niagra Falls has been lightened with Indian Tri-colour from 9.30pm to 10pm Canadian Time Wednesday ( 6.30 am to 7 am Indian Standard Time Thursday).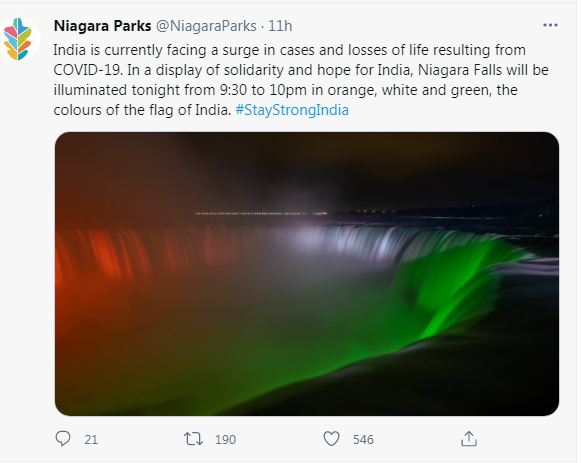 "India is currently facing a surge in cases and losses of life resulting from COVID-19. In a display of solidarity and hope for India, Niagara Falls will be illuminated tonight from 9:30 to 10pm in orange, white and green, the colours of the flag of India" twitted Niagra Park.
Three days back, the Burj Khalifa, one of the world's largest buildings had also lit up with Indian tri-colour to show solidarity with India's fight against the unprecedented COVID-19 situation.
India has registered 3.79 lakh new cases and 3645 deaths on Wednesday taking the tally to 1.8 crore and death toll to 204832.