Bhubaneswar : In a first-of-its-kind public art event, Temple City Bhubaneswar organized innovative Smart Park Art Work to foster public art and community participation in the parks. This day-long art event took place at the redeveloped BDA Park (Smart Park) in Saheed Nagar area from 6 am onwards today.
With features like graffiti walls, amphitheatre and dedicated spaces for community gardening, this park is being developed on Child Friendly Design Principles and the event has further added vibrancy to the parks, while constructively engaging the citizens.
Bhubaneswar Urban Knowledge Centre (BUKC) of the Bhubaneswar Development Authority (BDA), which had designed the smart parks, was the knowledge partner for this activity and city-based volunteer organisation Bakul Foundation was the art partner for this programmme, organised by Bhubaneswar Smart City Limited (BSCL) as part of Street Art and Mural Project (STAMP). In fact, STAMP has been a tool to beautify space through transforming walls, flyovers, streets and public spaces with meaningful art and it had a major impact during the 22nd Asian Athletic Championships, held in the city, last year.
The event started today from early morning with kids and youngsters from across the city along with young volunteers from Humara Bachpan and general public, while around 30 artists from Bakul Foundation guided the young hands how to paint a concept on a public space. Some of the young artists who actively participated in today's event included Nikkie Gargi, Dibyush Jena, Soumya Jena, Sibdas Sengupta, Julius Das, who were also joined by experienced hands like artist Satayabhama Majhi, Pinaki Mohanty, Pratap Jena and others. Similarly, young and enthusiastic citizens who donned the mantle for longer hours to create murals on the walls included Saubhagya Beura, Alok Kumar Swain and Rashmi Deshpande, Laxmipriya Swain, Pratibha Dalei among others. , around 30 artists of Bakul Foundation and nearly 100 children of different age groups along with city officials, community members and general citizens actively participated in creation of the murals and art installations on the designated walls for art at the open air galley in the park.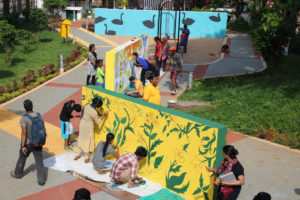 In total, the smart park in Saheed Nagar has 12 designated theme-based walls for murals and graffiti which are also envisioned to double up as open air art exhibition walls in the future. While the broader theme was 'Art for Relaxation' or 'Art as Therapy' for all the murals, the artists were divided into 12 different groups allowing them to pick a theme for creating the murals on both side of any one of these walls. The kids and community members joined these groups contributing in their own ways for the cause.
The varieties of themes chosen by the artists spanned from art installations using pieces of terracotta tiles to depicting shadow puppetry on the walls, meditating Buddha and abstract forms of modern and contemporary art. Young artist Soumya Jena and his team depicted the popular story of the cow and calf with the tiger through vibrant images shadow puppetry on one of the walls, experienced artist Pinaki Mohanty and his team opted to paint one such wall with birds based on the thought that parks are not only meant for humans but also for birds and other animals.