Sitharaman's mini Budget: FM announces much needed treatment for the ailing Economy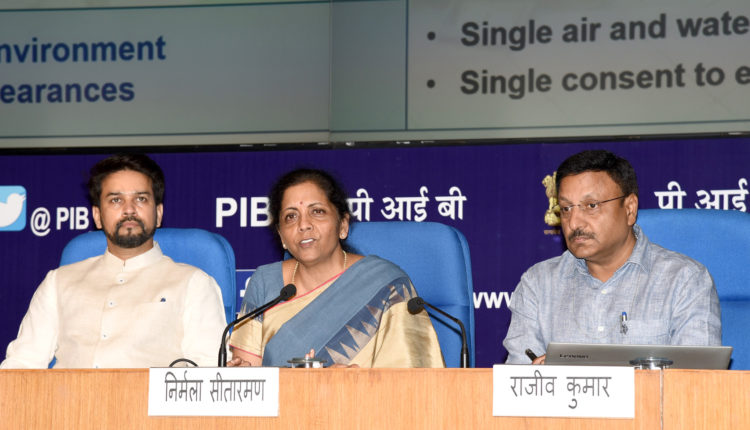 New Delhi : With a view to bring the Indian economy back to the track, the government today announced a series of measures. Union Finance Minister Nirmala Sitharaman on Friday briefed the media about the measures.
In order to attract investment in capital market, the government has decided to withdraw the enhanced surcharge levied by Finance (No. 2) Act, 2019 on long and short-term capital gains arising from transfer of equity shares and units. Ms Sitharaman also announced withdrawal of enhanced surcharged on Foreign Portfolios Investors (FPIs).
These measures, analysts say, could reverse the outflow seen after the budget and may also aid the appreciation of the rupee.
Among other measures, Corporate Social Responsibility violations will now be treated as civil matters and not as a criminal one. All tax notices and orders will be issued through a centralized and computerized system to end harassment of taxpayers.
The government has also decided to withdraw angel tax provisions for startups and their investors. There will be a dedicate cell under a member of CBDT for addressing the problems of start-ups.
A startup having any income tax issue can approach the cell to resolve the issue. It has also been decided upfront release of additional seventy thousand crore rupees; lending and liquidity to the tune of five lakh crore rupees by providing upfront capital to Public Sector Banks.
Speaking on the occasion, the Finance Minister said, India's growth in comparison to other countries is relatively better. She said, the country's growth rate is higher than United States and China. Ms Sitharaman said, the current projected global GDP is 3.2% and is probably going to be revised downwards. She said, global demand is going to be weak.