RIL lunches fixed line broadband service 'JioGigaFibre', Jiophone2
Shares drop by 0.26% to Rs. 987.50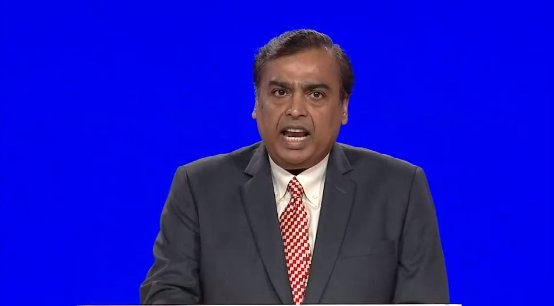 Mumbai :  Mukesh Ambani, Chairman of the Reliance Industries  ltd (RIL) today announces the launch of its fibre optics based fixed line broadband service 'Jiogigafibre' at the company's 41th Annual General Meeting (AGM) here.
The company's Shares dropped after the announcement by 0.26% to Rs.987.50 in the Bombay Stock Exchange.
The JioGigaFiber will enable households access ultra high-definition entertainment on large screen TVs, multi-party video conferencing from living room, voice-activated virtual assistants, virtual reality gaming, digital shopping and immersive experiences. The service will also empower businesses to compete with large businesses .
"We will now extend fiber connectivity to homes, merchants, small and medium enterprises and large enterprises simultaneously across 1,100 cities to offer the most advanced fiber-based broadband connectivity solutions," Mukesh Ambani said at RIL AGM.
The registration for the Jiogigafibre service will start from 15th of August. The company is eyeing 5 Crore  jioGigafibre home customers and 3 Crore small businesses in the first year.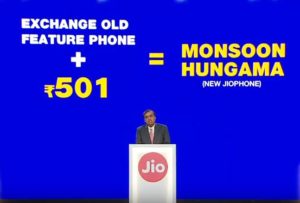 JioPhone2
RIL also unveiled Jiophone2 today at a price of Rs. 2999. The phone will be available from August 15. But customers can also buy the jiophone2 only at Rs.500 under the Maonsoon Hungama offer. As per the offer, customers can exchange their existing feature phone to purchase the Jiophone2 at just Rs.501.The handset 4G LTE enabled handset comes with a Qwerty keypad, VoLTE,  VoWifi support and runs the KaiOS, same as the JioPhone. This new model comes with support for LTE Cat.4, which enables download speed of 150 Mbps on Jio 4G network. Also, it's a dual-SIM feature phone allowing users to make use of other network carriers on the second SIM slot. The phone also supports Social media apps like Whatsapp, Facebook and Youtube.