Odisha reports fresh 5 cases, Senior officials, technical teams rush to Balasore, Bhadrak and Jajpur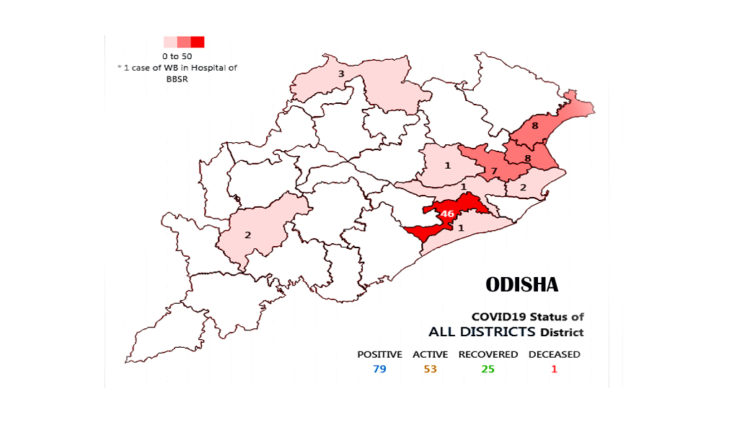 Bhubaneswar: Odisha has reported 5 fresh cases on Tuesday taking the total count to 79. In the last 24 hours Odisha has reported 18 new cases.
According to the information released by the Odisha government, all the 5 positive cases are from Balasore district. With these 5 fresh cases, the total number of cases in Balasore has surged to 8.
With more cases are being reported from Balasore, Bhadrak and Jajpur district, the state health department has deputed senior officials and health experts to these districts. While the Director of Health services (DHS) has been deputed to Balasore, Director of Public Health (DPH) and Director of Family Welfare (DFW) have been deputed to Bhadrak and Jajpur respectively.
DHS will proceed to Balasore
DPH to Bhadrak
DFW to Jajpur
Three state rapid response teams to proceed immediately these districts
SCB MCH to provide technical support to Jajpur district.
FMMCH has been supporting Balasore and Bhadrak districts.2/2

— H & FW Dept Odisha (@HFWOdisha) April 21, 2020
"Principal Secretary Health has directed experts from medical colleges, senior health officers and state RRTs to oversee containment measures in Balasore, Bhadrak and Jajpur districts" twitted the department.
The department has immediately deputed three rapid response teams to these three districts. While, the SCB Medical Collage in Cuttack has been asked to provide technical support in Jajpur, the Fakir Mohan Medical Collage & Hospital has been asked to provide technical support in Bhadrak and Balasore.