Odisha is Committed Towards the Growth of Mining & Metal Sector: Steel & Mines Minister
Mining and Metal industry stalwarts join hands for sustainable growth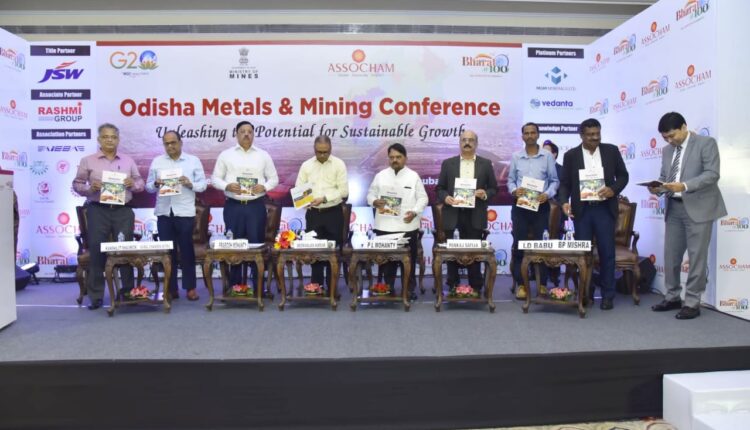 Bhubaneswar, September 14, 2023: A conference titled 'Odisha Metals & Mining Conference 2023' hosted by ASSOCHAM was organised here at a city-based hotel on Thursday. With an aim to encourage all stakeholders to unleash the Potential for Sustainable Growth, the conference discussed the urgent need to transform the untapped mineral potential of the country in a sustainable manner by ensuring the participation of all the stakeholders to achieve 'Atma Nirbhar Bharat.'
Gracing the occasion, Prafulla Kumar Mallik, Hon'ble Minister of Steel, Mines & Works, Govt of Odishaemphasized that the Govt of Odisha is committed towards the growth of Mining and Metal Sector by promoting exploration, auctioning more blocks, expediting the operationalisation of these blocks keeping in mind the concept of sustainability in line with the National Mineral Policy of the Nation.
Speaking in the occasion Deoranjan Kumar Singh, IAS, Additional Chief Secretary, Department of Steel & Mines, Govt of Odisha stated that responsible extraction, sustainable logistics infrastructure, flourishing downstream industries and people are the ingredients of Sustainable growth. He further emphasised the importance of sustainability in mining to keep the mineral available for future generations.
Recognizing the environmental challenges associated with mining, Odisha has taken steps to promote sustainable mining practicesby enforcing environmental safeguards which ensures responsible mining thereby minimising ecological impacts said PLMohanty, Chairman, Odisha State Development Council and CMD, MGM Minerals Ltd.
Pankaj Satija, Member, ASSOCHAM National Council on Mines & Minerals, Executive In-charge (FAMD), Tata Steelsaid "Mining is pivotal for industrial growth and should be done with the objective of resource stewardship, intergenerational equity, improving biodiversity, and water availability and minimizing the negative impact of climate change. By responsibly harnessing Earth's riches today, we secure a sustainable legacy for future generations, while also forging a path towards a greener, more sustainable future for our planet".
Bibhu Prasad Mishra, Executive Vice President, Jindal Steel & Power focused on logistics concerns for resourceevacuation for the mineral based industry on the state. He also emphasised on raw material security and speedy EC/FC clearances for sustainable operation in the state.
In his address, Prabodh Mohanty, Managing Director, SNM Group hailed that the conference is quite relevant as state of Odisha is the largest producer of iron ore, coal, bauxite etc. and it will naturally contribute to the industrial development of Odisha and India at large.
A joint knowledge report was released by ASSOCHAM-ICRA along with ASSOCHAM Newsletter on Metals & Mining Sector at the doin the presence of eminent dignitaries.Officials from Tata Steel, JSW, JSPL, Vedanta, AMNS etc attended the event.