#No-Confidence Motion: BJP eyeing 350+ to score massive moral victory over the Opposition
AIDMK supports, Shiv Sena, BJD to absent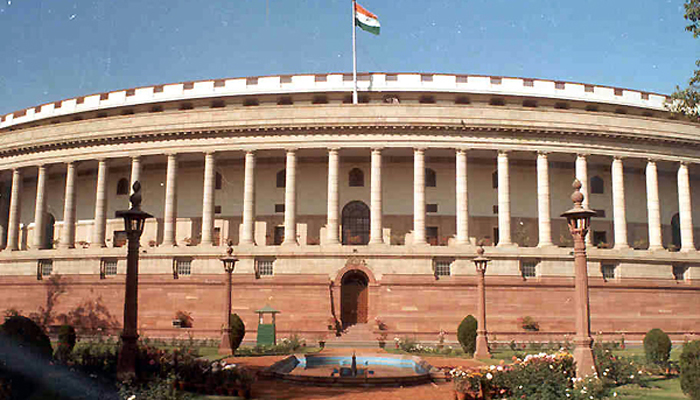 New Delhi: As the BJP led National Democratic Alliance (NDA) government is facing its first No-confidence motion just about 10 months before the 2019 General Elections, all eyes will be on Prime Minister Narendra Modi and Congress President Rahul Gandhi.
Currently, the Lok Sabha has 534 seats (10 vacancies) excluding the Speaker. The TDP, which is moving the motion has 16 MPs. The Indian National Congress, the largest party supporting the motion has 48 seats. To defeat the BJP government on the floor of the House, the Congress would need the support of 268 members, present and voting. The BJP has 273 seats.
As the numbers tally is not a worry for the Government, the no-confidence motion has merely become a show of strength for both the ruling and the opposition alliance before the 2019 General Election. The NDA would try to garner more support than its current tally of 314 seats. If the BJP managed to get more support than 314, which is most likely, it'll bring a huge dent to the opposition confidence, that is uniting under the banner of the 'Mahagathbandhan' for the 2019 polls.
Today is an important day in our Parliamentary democracy. I am sure my fellow MP colleagues will rise to the occasion and ensure a constructive, comprehensive & disruption free debate. We owe this to the people & the makers of our Constitution. India will be watching us closely.

— Narendra Modi (@narendramodi) July 20, 2018
As per reports, the Tamilnadu based AIDMK with 37 seats, has already announced its support for the NDA government, which has taken the NDA numbers beyond 350. Though crucial NDA ally, Shiv Sena has yet not announced its decision, it is likely to support the government or absent from the house. The BJP may also be trying to get the support of neutral parties like Odisha's BJD and Telengana's TRS. If these two parties either support the Government or remain absent, NDA's quest for the two-thirds majority will be a reality.
With the numbers are not a worry for the Government, the BJP is likely to use the platform to connect to the people with its master communicator Narendra Modi. The Prime Minister has already made its intentions clear by appealing for a comprehensive & disruption free debate.