India's COVID cases rise by 2.57 lakh, but daily death toll remains above 4000, Positivity rate eases to 12%
New Delhi:  Despite declining new cases and rising number of recoveries, India's daily death toll has remained a cause of concern as it reported another 4000+ deaths in the last 24 hours.
According to the data released by the union health ministry, India has recorded 2,57,299 fresh cases and 4194 deaths in the last 24-hours ending 8 am Saturday. However, number of recoveries continued to outnumber fresh cases as 3,57630  patients have recovered during the 24 hours.
With this India's COVID-19 tally has increased to 26289290 which includes 2923400 active cases, 2,95,525 deaths and 2,30,70,365 recoveries.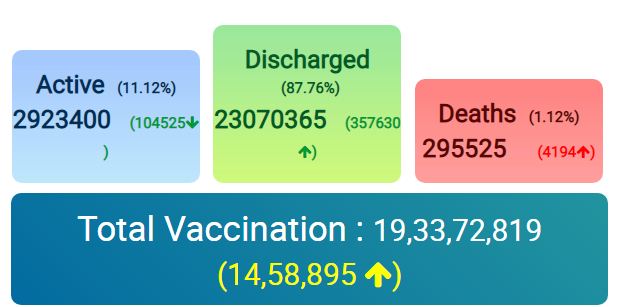 Meanwhile, as many as 20,66,285 samples were tested on Friday taking the total number of testes so far to 32,64,84,155. With this India's Test Positivity Rate has further declined to 12.4 per cent, which was almost 19 per cent a week ago.