Former LokSabha Speaker Somnath Chatterjee passes away
The leader who defied Party whip to uphold the dignity of Speaker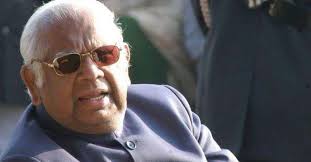 Kolkata : Former Lok Sabha Speaker and senior communist leader Somnath Chatterjee passed away today morning at 8.15 am at a hospital here. He was 89.  He was admitted in hospital in June end after suffering a mild cardiac arrest due to Kidney ailment.
Prime Minister Narendra Modi condoled Chatterjee's demise and described him as a "strong voice for the well-being of the poor and vulnerable."
Former MP and Speaker Shri Somnath Chatterjee was a stalwart of Indian politics. He made our Parliamentary democracy richer and was a strong voice for the well-being of the poor and vulnerable. Anguished by his demise. My thoughts are with his family and supporters.

— Narendra Modi (@narendramodi) August 13, 2018
Born in 25th July, 1929 in Tezpur, Assam, he first elected to the Lok Sabha in 1971. He was elected as a independent member supported by the CPI(M). Following the 2004 election, he was appointed as the pro tem speaker and subsequently on 4 June 2004 he was unanimously elected as the Speaker of the 14th Lok Sabha.
After the CPI (M) withdrew its support for the United Progressive Alliance-led government in mid-2008 on the issue of Civil nuclear deal with the United States of America (USA), the party included Chatterjee's name on its list of MPs who were withdrawing their support from the government, despite his non-partisan position as Speaker. Chatterjee, however, appeared unwilling to follow the party line to vote against the government in a crucial July 2008 confidence vote, as voting against the government would mean voting alongside the right-wing opposition BJP.[4] Ignoring the party's instructions, he decided to stay on in his post as Speaker of the House, acting in this capacity during the confidence vote. Following the vote, which the government survived, on 23 July 2008, the CPI (M) expelled him from the party for violation of party discipline.
( With inputs from Wikipedia)