Bhubaneswar: The depression over the Bay of Bengal has intensified into cyclonic storm 'Amphan' and it is currently centred around 1040 km South of Paradip of Odisha and 1200 km south, southwest of Digha of West Bengal.
According to the latest cyclone bulletin by the Indian Meteorological Department (IMD), the cyclonic storm has remained practically stationary during the past 6 hours. It is likely to intensify into a severe cyclonic storm in the next 12 hours and into a very severe cyclonic storm by 18th of May.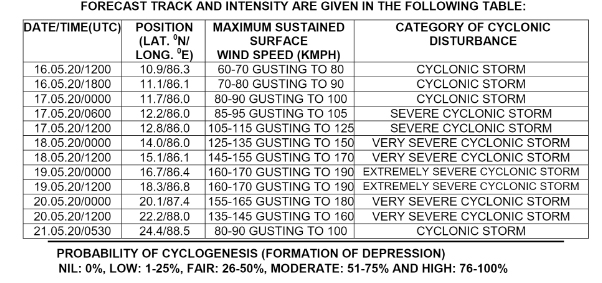 It is likely to move north-north-westwards till 17th May and then re-curve north-northeastwards across the northwest Bay of Bengal towards West Bengal and adjoining Odisha coasts during 18th to 20th May 2020, said IMD.
Earlier, Skymet has also reported that the depression over the Bay of Bengal has already intensified into a cyclonic storm. The cyclone is expected to make landfall on either May 19th late night or 20th morning, Southeast of Kolkata. The cyclone will have catastrophic damaging potential with extremely heavy rains and high-velocity winds, along with and off the coast of Odisha and West Bengal, said Skymet.