COVID19 LIVE : Millions of Indians clap to applaud Corona-Warriors of India
Biznextindia: People across India expressed their gratitude by clapping, ringing bells or clang utensils to the Corona-warriors of the country- the doctors, nurses, emergency service providers, government officials, sanitation workers, the police. The Prime Minister Narendra Modi on Thursday had called the people to observe 'Janta Curfew' from 7 am to 9 pm on Sunday and express gratitude by clapping at 5 pm in the evening.
 All Train services cancelled till 31st March
Biznextindia: In the wake of outbreak of COVID19  in India, the Ministry of Railways has cancelled all passenger train services of Indian Railways and Konkan Railway till 24 hours of 31st March.  However, all freight operations will continue, according to the order issued by the Railway Board a short while ago.
As per the order "all long distance Mail/Express and Intercity train (including premium trains) and all originating passenger trains shall remain cancelled till 2400 hours of 31 March, 2020".
".. sub-urban trains and trains of Metro Railway , Kolkata shall be continued at bare minimum level until 24 hours of 22 March, thereafter, all suburban trains and trains of Metro Railway, Kolkata shall be totally cancelled from 2400 hours of 22 March to 24 hours of 31st March" the notification said.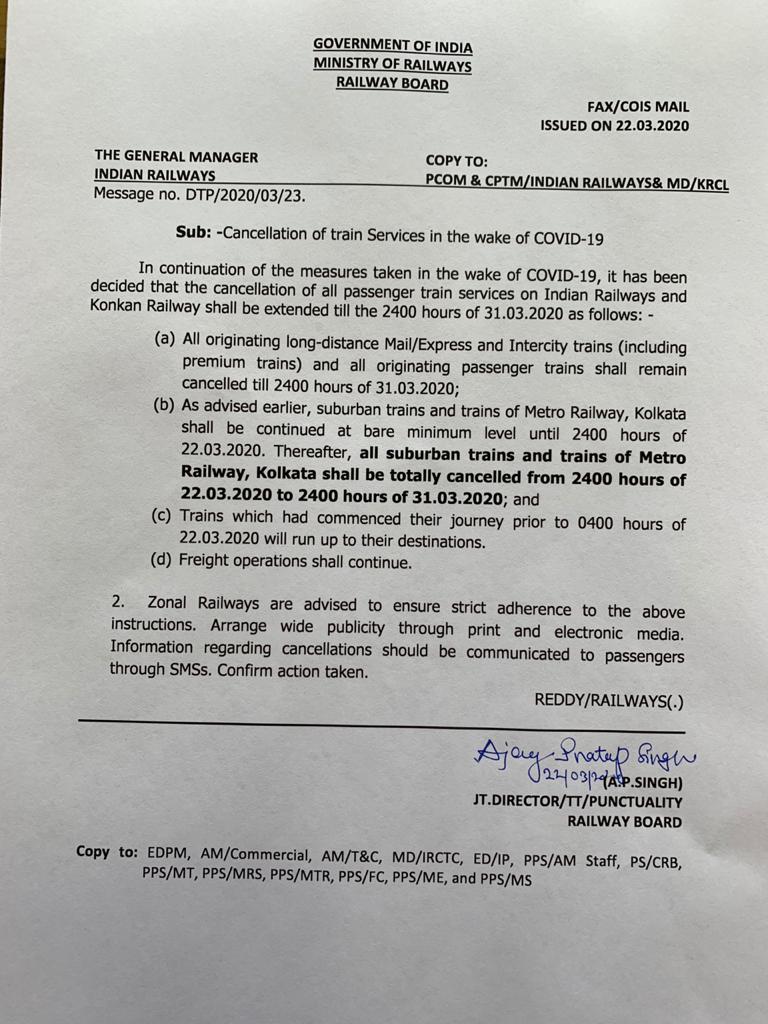 Positive cases soar to 324 as India observes 'Janta Curfew', Death Toll soars to 6
Biznextindia: As the number of cases continues to soar, India is witnessing an unprecedented shutdown following Prime Minister Narendra Modi's call for 'Janta Curfew'- a self-imposed restriction to stay indoors by the people.
Meanwhile, the Indian Railways has announced suspension of all passenger trains till March 25, according to media reports. A notification in this regard is likely to be issued today. Currently, there are as many as 400 trains/mails and expresses are on their journey and once they reach their destination, no new train will run. The railway board will further sit on 25th to review the situation.
India's COVID19 outbreak has reached a very high trajectory as the number of cases has touched 341 till 11 am on Sunday. On the total positive cases, 296 are active cases, while 23 have recovered. India on Sunday reported 2 new deaths so far in the Coronavirus taking the total death toll to 6. Out of the deaths, while Maharastra has reported 2 deaths, Delhi, Karnataka, Punjab and Bihar have reported one death each.
"A total of 16,999 samples from 16,109 individuals have been tested for SARS-CoV2 as on 22nd  March 202010:00 AM IST. A total of 341individuals have been confirmed positive among suspected cases and contacts of the known positive case" said Indian Council of Medical Research (ICMR) today.
Meanwhile, in an important development, a special Air India plane carrying 263 Indian students evacuated from Rome has landed in Delhi this morning. According to the health ministry protocol, they will be taken to a quarantine centre in Delhi for 14 days and will be tested.