Attack on Ukraine continues for Day-II : Multiple missiles fired on Kyiv, 20 Russian Helicopters land near the capital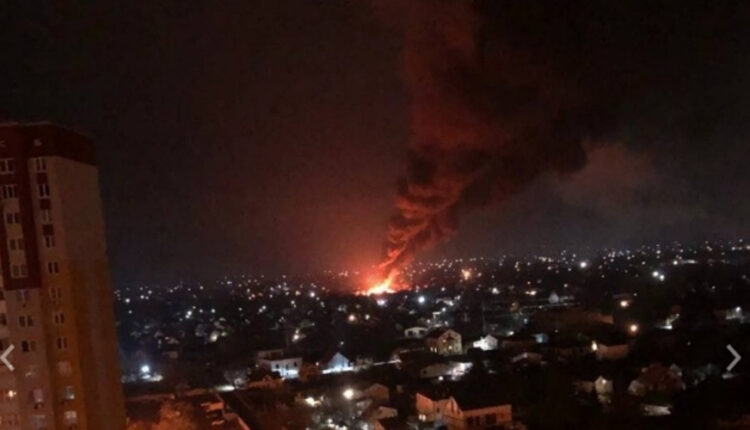 Biznextindia : The Russian attack on Ukraine has continued for the second day as blasts are being reported in the Ukrainian capital Kyiv.
According to both international and Ukranian media reports, Kyiv has been hit by several cruise and ballistic missiles and the Russian forces are less than 20 miles from the capital.
"On the morning of February 25, the Russian occupiers fired cruise or ballistic missiles on Kyiv."Explosions are heard in Obolon, Vidradne, Dorohozhychi, Troyeshchyna, Petropavlivska Borshchahivka residential districts," Suspilne informs Moreover, blasts are heard near the military airfield in Hostomel" reported Ukranian news agency 'Unkrinform'.
'Unkrinform' has also reported that as many as 20 Russian KA-52 and MI-8 helicopters have landed on the Hostomel airfield about 37 kilometers from Kyiv.
Meanwhile, the Ukrainian defence forces have fought back on multiple fronts. Ukrainian President Volodymyr Zelenskyy said in a video address early on Friday that 137 people, both soldiers and civilians, have been killed and hundreds more wounded.
"Units of the 1st separate tank brigade of the Armed Forces of Ukraine stopped the columns of enemy's armored vehicles in Baturyn area and on the outskirts of Chernihiv. The enemy attempted to land tactical airborne assault force along the Kyiv water reservoir. Twenty KA-52 and Mi-8 helicopters of the Russian Federation landed at Hostomel airfield. The battle is ongoing. In addition, the National Guard of Ukraine entered the battle near the town of Prypyat. Russian tactical airborne assault force landed in Besarabsky and Tavriysky operational areas. After an unsuccessful landing attempt and an unsuccessful missile strike, the enemy missile cruiser Moskva began shelling Zmiyinyi Island" reported Unkrinform.