New Delhi : Garmin India, a unit of Garmin Ltd. (NASDAQ: GRMN) today launched the all new Venu 2 Plus ― its first ever smartwatch integrated with voice-calling function and hands-free voice assistance.
The all new Venu 2 Plus is priced at Rs. 46,990, available in 3 exciting colors; Graphite Black, Cream Gold and Powder Grey and it is available in both offline and online platforms.
With its new voice calling functionality, the smartwatch offers its users the convenience of making phone calls from their wrist. It is also equipped with voice assistance feature that allows the users to respond to texts, ask questions, control compatible smart home devices and support Apple's Siri, Google Assistant, and Samsung's Bixby applications.
The Venu 2 Plus comes with a robust suite of health and fitness features under the concept of 'Dear Body – Work On A New Look'. The newly in-built Health Snapshot aspect in the watch enables the users to log a two-minute session to record key health stats, including heart rate, heart rate variability, Pulse Ox3, respiration and stress and generate a report via the Garmin Connect™ app to monitor the statistics.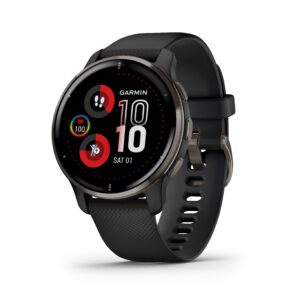 Furthermore, the smart device dives into wellness with the broadest range of 24/7 health monitoring factors like the Body Battery Energy Monitor, which measures the body's energy throughout the day. The Pulse Ox3 monitors the blood's oxygen saturation in the body. The smartwatch packed with other features including stress tracking, advanced sleep with sleep score and insights by Firstbeat AnalyticsTM, breath work activities, pregnancy and menstrual cycle tracking, respiration tracking, fitness age, as well as other health monitoring metrics to track users' fitness goals and progress.
"The wait is over for our first ever smartwatch with voice functionality. Venu 2 Plus is designed and developed with Garmin's deep experience in health and technology. The smartwatch has also been honoured at the CES 2022 Innovation Awards for outstanding design and engineering. Our users can now enjoy health and tech in a single dial on their wrist. Venu series is one of the most popular series in our portfolio. And, now with new features like phone calls, voice assistant control integrated with all-day health monitoring and customized fitness options, the smartwatch will enhance the experience of the users"  Ali Rizvi, Director, Garmin India, said.