Mumbai : RBI governor Saktikanta Das has begun his adress to the media.
Today humanity is facing the trial of its time, as COVID19 pandemic grips the world with its deadly embrace. In this kind of environment Reserve Bank of India (RBI) has been very proactive & monitoring the situation closely: RBI Governor Shaktikanta Das.
Sensex up 1000 points, Nifty above 9200 points as RBI governor to address media shortly
Mumbai: Markets opened on a positive note on anticipation of more relief measures by the Reserve Bank of India (RBI).
While the S&P BSE Sensex is up by more than 1000 points or  3.48 % at 31666.39  points, the NSE Nifty-50 is up 309.50 points or   3.44% at  9302.3   points.
Top gainers on the NSE are IndusInd Bank, HDFC, Axis Bank, Bajaj Finance and ICICI Bank.
RBI governor Shaktikant Das is scheduled to address the media at 10 am. He is likely to announce additional measure to uplift the Corona-hit economy. In the last week of March RBI had announced a slew of measures to provide relief to banks and the common man. In its last MPC meeting RBI had reduced Repo rate by 75 basis points.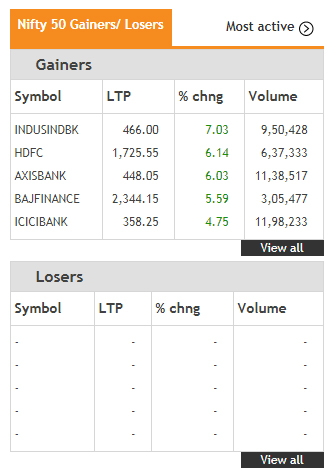 Nifty Bank Index