In its first budget after the Election, Odisha Government focuses on Welfare Schemes, Disaster Management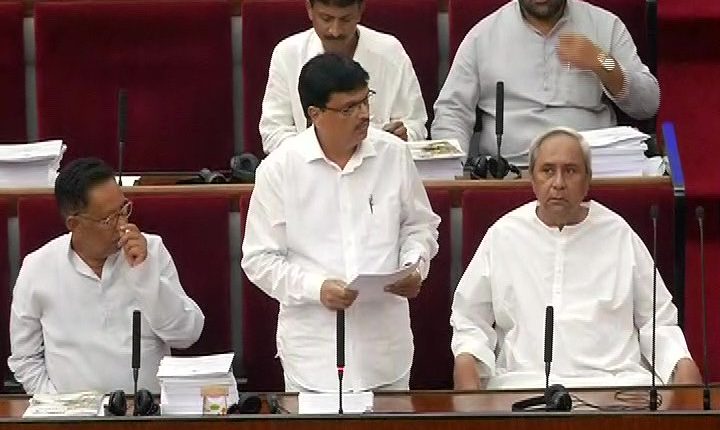 Bhubaneswar: Odisha Finance Minister Niranjan Pujari on Friday presented Rs.1.39 lakh crore state budget for the financial year 2019-20 in the Odisha Legislative Assembly. Like the previous year, he presented the budget in two phases- firstly the Rs. 20,714 Crore Agriculture Budget and the general budget.
The budget mostly focuses on the BJD government's flagship welfare schemes in sectors like Agriculture, Woman Empowerment, Skill Development and healthcare. The budget has also earmarked Rs.4600 Crore for disaster preparedness and creation of long term disaster resistant infrastructure for the cyclone prone state.
The Odisha Chief Minister Naveen Pattnaik has praised the budget terming it pro-farmer, pro-poor and pro-woman.
"Besides, Fani restoration and creation of disaster resilient physical assets would also be our priority," he added.   Rs 5611 crore has been allocated under the Krushak Assistance for Livelihood and Income Augmentation (KALIA) scheme, which will benefit 75 lakh farmers.The government has also proposed Rs 800 crore in the budget for interest subsidy/subvention on crop loan during 2019-20.
"Rs 540 crore allocated for completion of 20,000 deep bore wells; govt targeting 1000 community lift irrigation points at a cost of Rs 400 crore," said the Finance Minister. Rs 100 crore has been earmarked for Gangadhar Meher Lift Canal System, Rs 1777 crore for Parbati Giri Mega Lift Irrigation Scheme and Rs 146 crore for Nabakrushna Choudhury Secha Unayana Yojana.The budget has allocated Rs 2,442 crore for empowerment of women. The annual assistance for women members has been raised from Rs 7 lakh to Rs 10 lakh under Biju Swasthya Kalyan Yojana (BSKY). Rs 4,600 crore has been provided for disaster management including Rs 909 crore under State Disaster Response Fund and Rs 3,691 crore under National Disaster Response Fund.
Transfers from state to local bodies and development authorities will have an outlay of Rs 6, 490 crore. Total budgetary allocation for Health and Family Welfare department has been increased by 10 per cent to Rs 6,828 crore during 2019-20, the minister said.