Indian IT Sector seeks help from Government against Protectionist Policies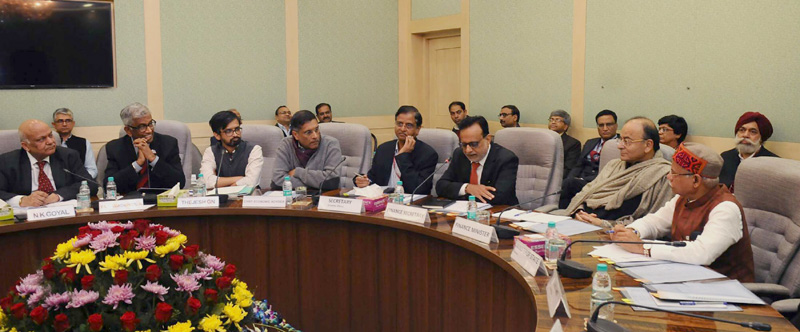 6th Pre-Budget Consultation Meeting:  IT Sector
New Delhi : The Union Minister of Finance and Corporate Affairs Arun Jaitley said that to promote indigenous manufacturing of electronic goods, many steps have been taken by the present Government in last three years including rationalization of the tariff structure with extension of differential excise duty dispensation on specified electronic equipments and withdrawal of duty exemption etc. The Finance Minister said that in the Union Budget 2017-18, with the aim of creating an eco-system to make India a global hub for electronics manufacturing, the allocation for incentive schemes like M-SIPS and EDF has been exponentially increased to Rs 745 crores.  The Finance Minister Shri Jaitley was making the Opening Remarks during his 6th Pre-Budget Consultation Meeting with Stakeholders from IT (Hardware &Software) Group in New Delhi today.
Stakeholders from IT Group who attended today's meeting included Thejesh GN, Co-Founder, Datameet, T.V. Ramchandran, President, Broadband India Forum,  N.K. Goyal, Chairman Emeritus, TEMA,  Sunil Kumar Dhareshwar, Sr. Vice President, Global Head Taxation Infosys, Ms.Renu Narvekar, Vice President, Global-Tax, TCS,  R Chandrasekhar, President NASSCOM,  Nitin Kunkoliender, Vice President, MAIT,  Pankaj Gulati, President, ELCINA,  Hari Om Rai, Co-Chairman, Fast Track Task Force (FTTF), Rajiv Agarwal, Vice Chairman, Telecom Equipment & Services Export, Prasad Garapati, Chairman Electronics and Computer Software Export.
The IT sector representatives invited the attention of Minister to the fact that India's competence in IT-Software is recognized globally. In recent times, software development and information technology enabled services (ITeS) including business process outsourcing (BPO)/ knowledge process outsourcing services (KPO) industry in India has emerged as one of the most dynamic and vibrant sectors in India's economy with huge employment potential. They however pointed out that considering some recent protectionist and discriminatory policies followed by other countries, the IT sector would need Government's help at Policy level to ensure combat visa restrictions issues as also to ensure our economic interests. Similar to steps taken in previous budget to promote indigenous manufacturing of electronic goods, more steps to include rationalization of the tariff structure with extension of differential excise duty dispensation to mobile handsets/ tablet computers and other specified electronic equipment, should be taken in the forthcoming budget for Promoting Broadband; Access for easier fund for Telecom;  Tax free Bond for Telecom; Lowering GST on Telecom services to 12 per cent instead of 18 per cent; BCD on all non ITA-1 products;  Depreciation benefits for Make in India; Promote components hub;  Keep Electronics Sector out of RCEP and increase import duty on Mobile handsets.